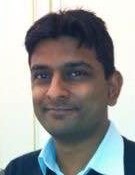 Area
South
Role
Area Vice-Chairperson & Property
Profile
I am a Certified Business Analyst working for a commercial bank, specialising in the Financial Services Industry. I have served within the Oshwal South Area committee since 2008 as Media and Communications, Secretary and Vice Chair.
Vision
For the South Area there are two main visions:

– We need to reform the structure of the Gujarati School so that it meets the needs today's children and their parents, it needs to be fun learning and less emphasis on the curriculum.

– Aquire and develop a suitable property to ensure that the local community activities continue to prosper and that there continues to be an Oshwal base in the South area.