Bhakti Sandhya at Oshwal EKTA Centre on 24th April 2019 was sponsored by Parivar of Late Vrajpar Nagpar Shah and Late Jethiben Vrajpar Shah.The bhakti was in memory of Vrajparbapuji (49yrs) Jethibaa (10yrs), Nimuben (21yrs) and Ranjuben (5yrs).
Once again a wonderful spiritual evening of bhakti with over 100 people attending the bhakti. This month we were fortunate to have our famous singer – Nituben Shah in the audience from whom we had the privilege to hear a wonderful song. Everyone was totally immersed in the bhakti and a number of them joined in the garba. Lots of positive feedback from both the parivar's family and the audience.
My utmost thanks and appreciation for everyone who help make the monthly bhakti a very spiritual & enjoyable experience and a very special thank you to Vimalbhai who creates the beautiful moments via video and photos.
 Excellent feedback received
Many thanks to you and the team. You all are truly an inspiration. At the end of the evening we felt so peaceful.
---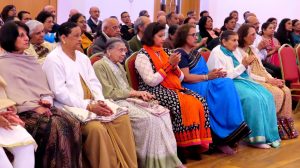 Come and join us at our next Bhakti event on 30th May 2019