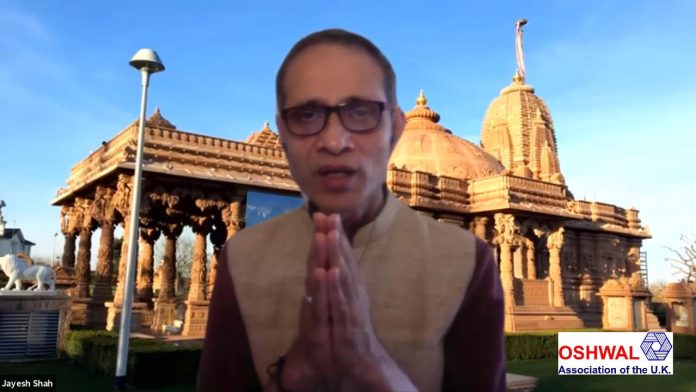 Sunday, 9th August 2020 at 11.00 am
Guru Krupa Se Prabhu Mile Satsang will be hosted by the Oshwal Association of the U.K. by virtual webcast (online), on 47 years of passing away of Pujya Upkaari Gurudev Acharya Shri Kund Kund Surishwarji Maharaj this year. Let us learn from Pujya Shri Jayeshbhai Shah, how we can all benefit from Guru Tatva (Essence), Guru Bal (Strength) and Guru Kripa (Blessings).
Let us all together pay a tribute to the divine soul of Gurudev.
Khub Anumodna to the following families for sponsoring the Satsang:
1. Mrs Rambhaben Ranmal Shah, Leicester
2. Mrs Anilaben Keshavlal Vrajpar Shah, London
3. Mrs Kailashben Ashok Shah, London
4. Late Mrs Devkurben and Late Khetshibhai Juthalal Gosrani, London
5. Himatlalbhai Khimji Gudka
6. In memory of late Harakhchandbhai Lakhamshi Nagaria Shah and birthday celebration of Ramaben Harakhchand Nagaria Shah
7. Ramaben Ramniklal Shah in memory of Kunj Shah
8. Family of Karuna Mukesh Shah
To download details in Gujarati, click here.
No registration required.  You can watch the live stream on Oshwal YouTube channel.