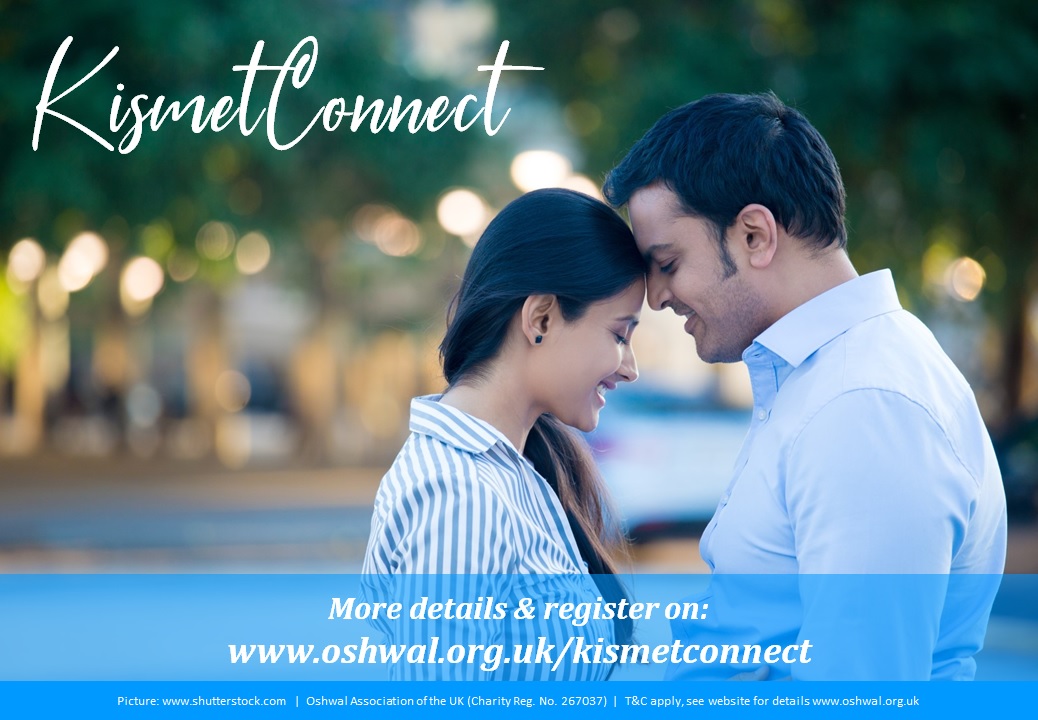 – IMPORTANT – 
NO tickets will be available at the door. If you come without a pre-registered ticket you will be refused entry.
Let's face it, we all know how hard it is to find that special someone!
The purpose of the event is to provide a safe and comfortable forum for singles in our community to make meaningful connections with the right person!
The KismetConnect team have worked hard to provide a great fresh perspective in dating, so don't worry this is not going to be the same old boring speed dating format you may have experienced before!
The KismetConnect team will be on-hand for advice and support, or any questions you have. Even if it's your first ever singles event, we promise you'll feel comfortable and confident. This enjoyable, friendly and relaxed event promises to be filled with lots of laughter, great conversations and great connections!
There will be light refreshments (with vegan options) for you to enjoy and of course share a drink with a new connection!
All you have to do is read our terms and conditions and register below!
Date/time: Sun 24 Nov 2019
Venue: Oshwal Centre, Coopers Lane Road, Potters Bar, EN6 4DG
Age Range Guide: This is 18+ event with age range guide between 18 to 40 years.
Morning Session: from 11.30am to 1pm for Male aged 18 to 35 and Female aged 18 to 30
Afternoon Session: from 2pm to 3.30pm for Male aged 32+ and Female aged 28+
Note: Males aged 32 to 35 and Females aged 28 to 30 can register for both sessions (subject to space availability)
Dress Code: Smart/Casual
Important Note – By buying a ticket to the event you are agreeing to the terms and conditions. Tickets are non-refundable and if you buy a Oshwal Member rate ticket, you MUST show your Oshwal Membership card at the door for entry otherwise you will be charged a non-member rate and/or refused entry.
Important – Terms & Conditions – Please read
Definitions
"Service" means the introduction service for single individuals;
"We, Us, Our" means Oshwal Association of the UK (or "OAUK");
"You, Your, Yourself" who is the person using the website or other services provided by us.
Key Conditions
We cannot guarantee you will meet the love of your life at any event and we take no responsibility for any emotional or physical distress that may come to you at any point and in the future from someone you meet at any event or otherwise through our services.
Anyone who abuses or is abusive will be removed from the event, at our discretion.
By using this service you warrant and represent to us that:
You are over 18 years old;
You have not been convicted of any offence relating to violence and/or any offence under the Protection from Harassment Act 1997 (or under any statutory enactment replacing and/or amending such Act); and/or
You have not been subject to any injunction or any order to pay damages under the Protection from Harassment Act 1997 (or under any statutory enactment replacing and/or amending such Act);
You also warrant that you are single (or divorced or widowed) and therefore in a position to form a relationship.
If You are not able or not willing to give the warranties and representations set out above, then You are not entitled to use the service.
Management reserves the right to refuse admission and to make any changes to the event due to unforeseen circumstances. Any surplus from the event will go towards the Oshwal General Funds.
Please note photographs and videos may be taken at this event, and by attending you are giving permission to Oshwal Association of the UK for your image to be used in any post-event publication such as Oshwal News magazine, our Website and/or other media channels.
Report Abuse
OAUK has a zero-tolerance approach to abuse. To report any abuse of this service, please call or email the KismetConnect team confidentially as follows:
Contact Persons: Ashish Patani
Mobile: 07708 753 510
Read about our last year's event!
To read about our last year's KismetConnect event, click here.