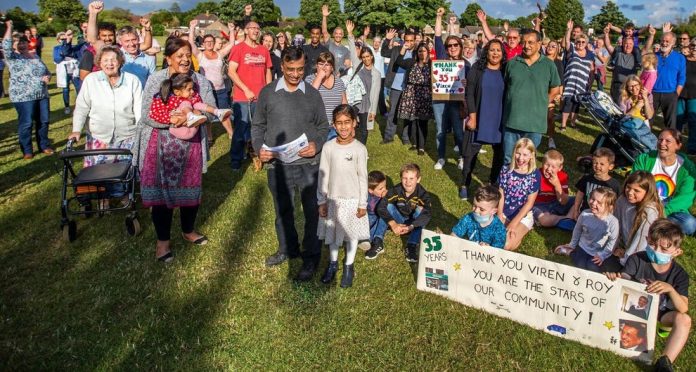 Achievement by Virendra Punja Bharmal Sumaria
Virendra came into UK in 1971 from Eldoret, Kenya He is one of many siblings. He studied for a few years. Then decided to run a business. He ran a small corner shop for 8 years. As he gained experience, he ventured out to buy a bigger shop which was run as "Londis" in Hardingstone, a village of Northamptonshire. This was also run as husband and wife team. They worked extremely hard to survive this thriving business. This year 1 st June it has been. 35 years since they took over this business.
In this Pandemic period which has been unprecedented Virendra opened the shop for short hours. He started doing community service by delivering, with the help of, the village volunteers, to older generation. This meant that, after shutting, he was still busy with the help of his employee- his nephew, Rohit Motichand Sumaria. – getting orders ready for deliveries. This was very unexpected, but the business thrived even more in these circumstances.
On 1 st June he got a surprise. Hardingstone Village Community lined streets to applaud Virendra and say thank you for 35 years of kind service and support to all the villagers via running this convenience stores. He did not want to celebrate 35 th anniversary of opening the business, but he got a surprise when his son, Pritesh requested him to lock the store and come outside. The villagers had other plans to help him celebrate. He walked out of the shop to find hundreds of people from his community who started applauding him and Rohit (villagers call him Roy) and thanked them for all the decades of serving the community by running this convenience store. The event was made possible by posting flyers to every household in the village.
The comments by the members of the community:
"Viren and Roy are absolutely lovely. He always has time to have a little chat and ask how you and the family are. It was nice to see all the neighbours coming out of their houses to say thank you and let him know their appreciation, like it was done for the NHS Staff."
Viren's comments:
"It took me completely by surprise. It was very emotional. I was taken back at seeing so many people. I have never seen anything like this in my whole life. We are very lucky to have the village.In all these years without their support we would not be here"
Article by Gita Shah, Northampton Media Rep