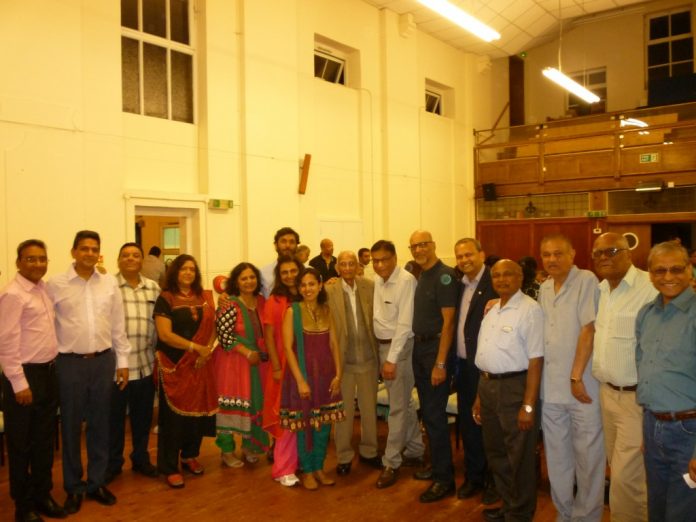 19th May 2018
Jai Jinendra,
The Newly elected West area committee organised their first event to kick off their 2018-20 tenure, the 50+ Dinner and live Music (supported by the £120 Scheme)*.
Over 100 members had gathered to attend this ever-popular function on a very warm Saturday evening. We had members from almost all areas who attended.
The day started from noon with our team of volunteers assisting with the preparation of the food.
A full dinner was served by a team of our male volunteers. We were extremely happy to see the arrival of a strong entourage of the new President of OAUK, Nileshbhai and several Trustees, this being their first outing to any area event since the elections.
The delicious meal was followed by musical entertainment provided by Ketanbhai Dhanani & family who sang the melodies of both yesteryear and new Hindi songs. Everyone joined in with the singing and clapping. A few of the members also started dancing to the tunes.
Shakti Centre also celebrated the royal wedding of Prince Harry & Meghan, with a few traditional Gujarati Fatanas and wedding songs, which everyone joined in with.
There was a break midway through the evening for some refreshing masala chai, prepared by our very own tearistas from a secret blend of freshly ground masalas, and homemade biscuits kindly donated by Jyotiben Jaysukh. Both the tea and biscuits were thoroughly enjoyed by everyone and highly appreciated.
The second musical session then got underway with even more singing and dancing.
Finally, no musical evening is complete without the perennial favourite "farmaish" of "Yeh dosti" (of Sholay fame) from Keshubhai (Columbo). All guests joined hands and danced in a circle to this song to bring the evening to a close at just after 11.00pm.
All who attended enjoyed the programme and agreed that it was a fantastic evening.
A huge thank you to all the volunteers for preparing/cooking of the food, cleaning and setting up of the hall and clearing at the end.
Any members who were unable to experience the above then despair not as there are more events planned over the coming months so keep a lookout for these and book your places to avoid disappointment.
Remember this event was supported by the *£120 scheme, for details about this scheme please contact a member of the committee.
Jai Oshwal.
---
Back to West Area page.