AS PART OF THE 50TH ANNIVERSARY COMMEMORATION OAUK EVEREST TREKKERS ARE HELPING TO RE-BUILD BASNET GAUN SCHOOL
Background
In October 2018, 30 Oshwal Trekkers will be climbing to Everest Base Camp, with a view to raise funds to help re-build Basnet Gaun School. To support the trekkers efforts, any and all donations are welcome. To donate, click here.
Earthquake history in Nepal
In 2015 there have been two earthquakes that shook Nepal.
The first earthquake on 25 April 2015, a 7.8 magnitude earthquake, killed over 10,000 people, injured over 18,000, and destroyed hundreds of thousands of homes.
The second earthquake 12 May 2015, a 7.3 magnitude earthquake, toppled already weakened buildings, triggered a series of landslides further hampering relief efforts. Tragically, the response had been shambolic and grossly mismanaged.
UNESCO World Heritage sites destroyed
Hundreds of historical and cultural monuments were extensively and irreversibly damaged.
8 monuments in the Kathmandu Valley makes up the world heritage sites.
A woman sits on the rubble of her house in Sindhupalchowk village. Sindhupalchowk was one of the worst hit districts where over 2,000 villagers died.
The road to recovery for the hill villagers was made more difficult by the poorly planned sprawl of the valleys and list of demographic and infrastructural barriers.
Worst- affected areas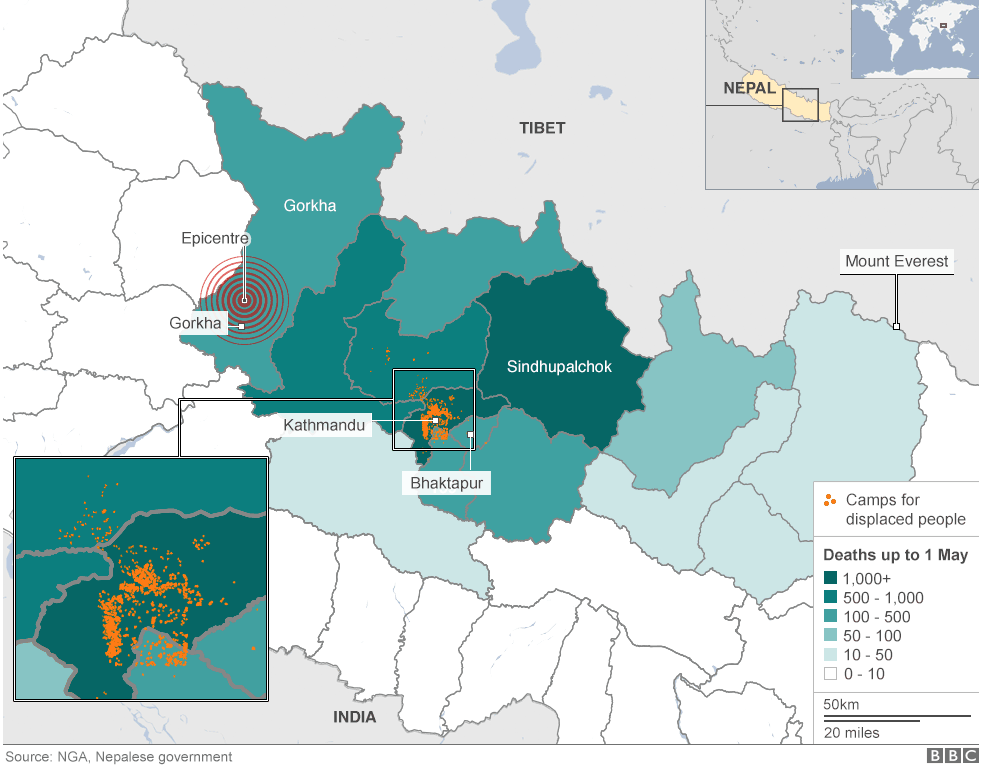 Source: http://www.bbc.co.uk/news/world-asia-32479909
Shree Adarsha Aadharbhoot Bidhyalaya School "Basnet Gaun School"
About
Basnet Gaun school was established in 1975 and currently has 70 students.
75% Of these students are from Chepang, & Dalit communities (these communities are very deprived even from primary necessities in general, education being the one).
The location of school is in rural setting, 10kms off road from Charaudi.
Students walk 2-5kms daily from school to home and vice versa. Most have to cross a river daily to come to school.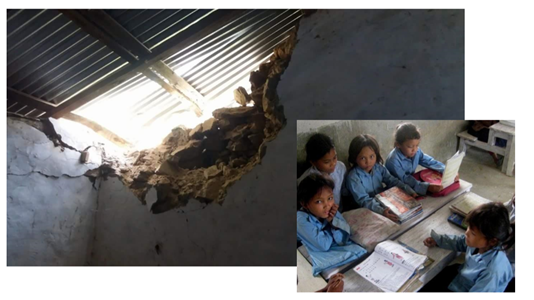 Why?
The school was been badly damaged by the 2015 earthquake; however, children still study in the dangerous building despite being aware the building could collapse at any point.
The parents are only hoping that the school will be reconstructed at the earliest as the students are forced to study in classes with leaking roofs considering the monsoon has started from June.
It is highly likely that the attendance of students will decrease in the days to come owing to an uncomfortable and unsafe school building.
Off road access but no local commute makes it even difficult for these students. Adding to these problems, the current condition of the school is miserable.
Where?
Basnet Gaun School is located in Benighat Rorang Guapalika in the Dhadhing region of Nepal.
The location is commonly called Basnet Gaun as most castes living were 'Basnets' in previous years.
The Basnets have since moved to cities, hence Chepang and Dalit have migrated to Basnet Gaun and have been living there for many years.
The parents of these Dalit and Chepang students have very poor economic conditions. They hardly own their houses, nor have their own land. They use other people's land to grow crops for a living.
The school is located very near to a historic temple, named Bageswori temple (said to have been seen since 1939).
The school's chairman, Mr. Ekraj Suyal, 9803015991, who is also the ward member at ward#7, Charaudi said that school is in poor condition since 2015 earthquake but due to lack of funds, reconstruction has halted.
The only retrofitting after the earthquake was building a toilet for the school but the school's studying space for students remains in a poor condition.
There are 132 houses in the village, all damaged by the earthquake. From these, 67 houses have started reconstruction.
The main source of income for the locals from this village comes from farming in the fields of the Brahmins.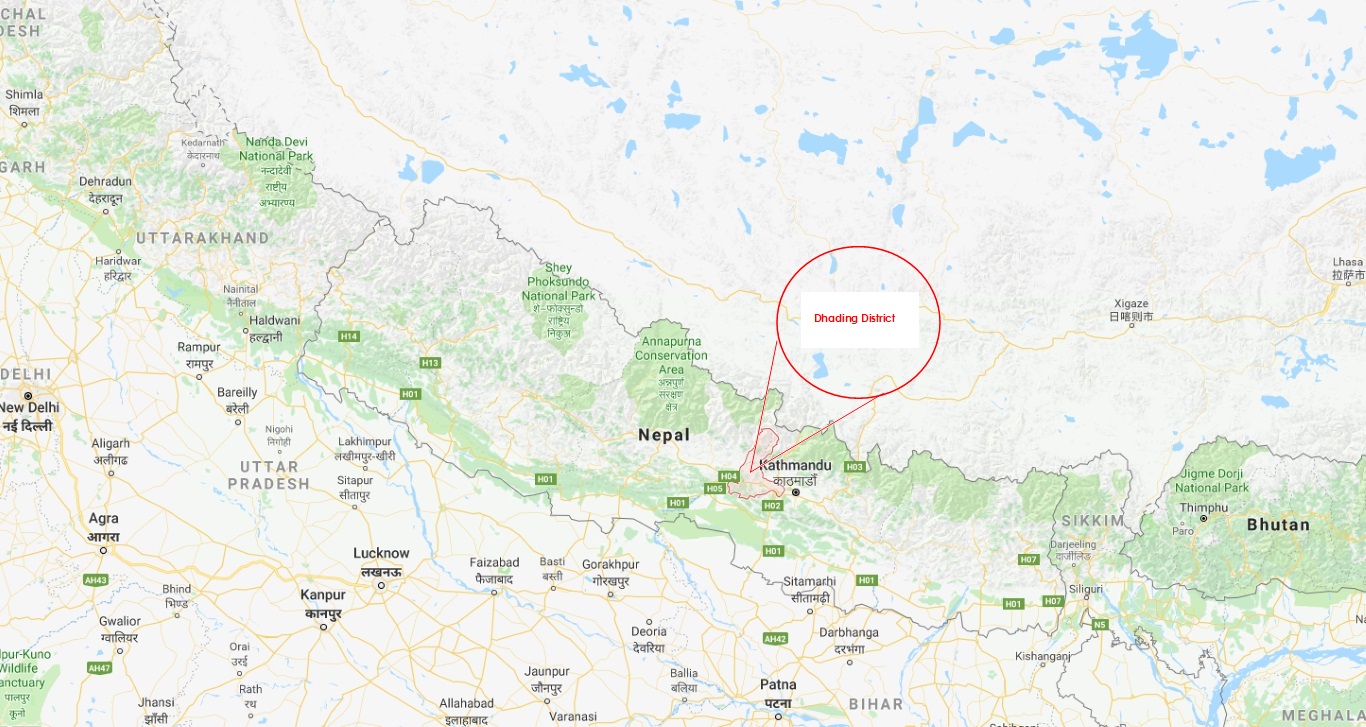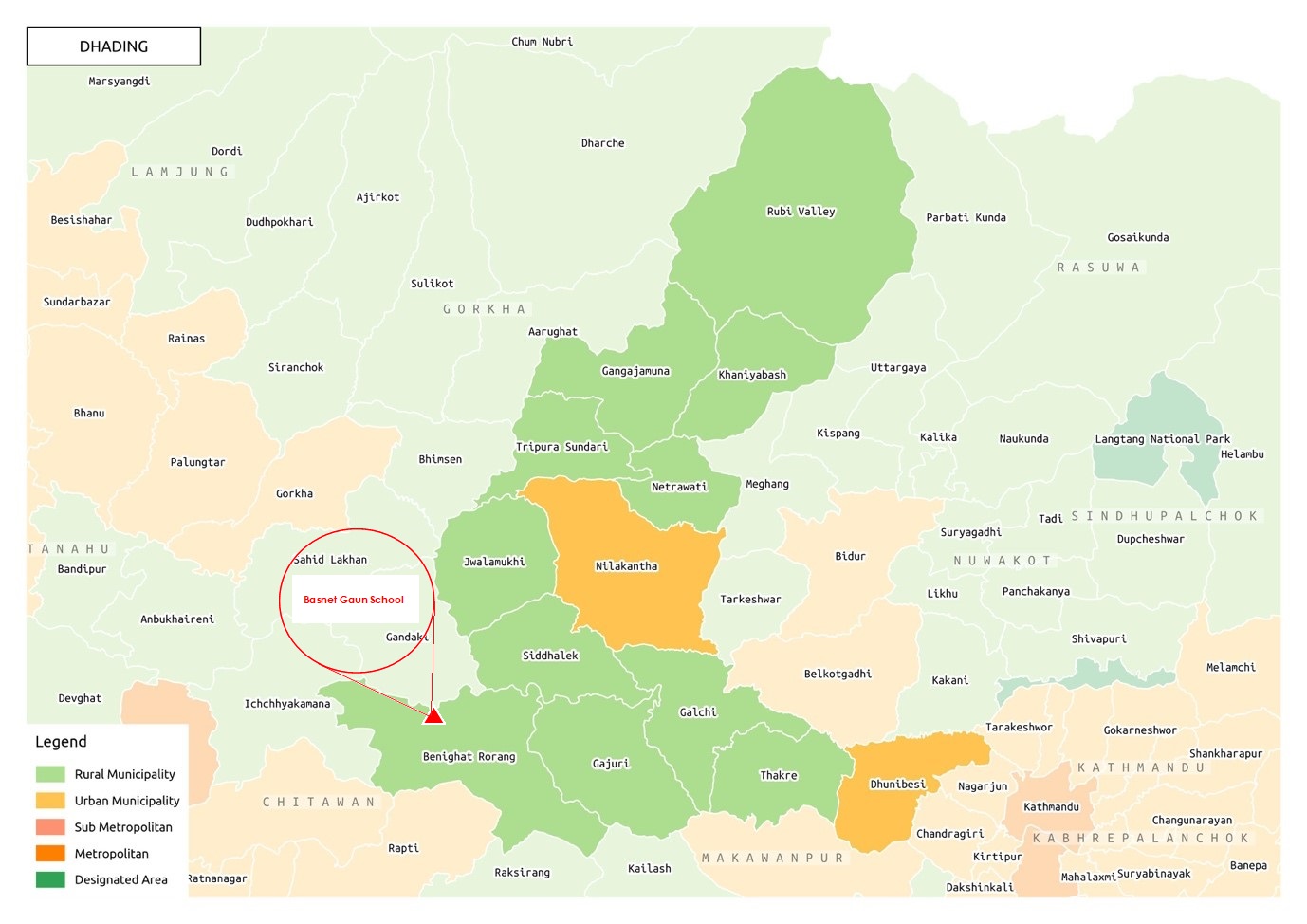 Source: http://ehrpnepal.info/maps?district=30
School Facts
School Plaque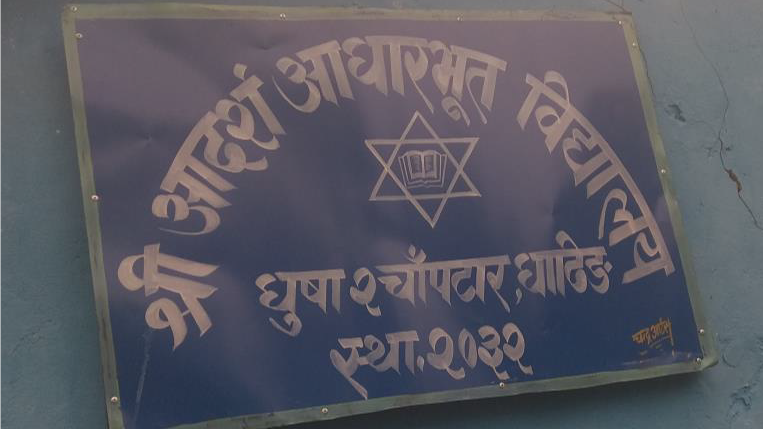 Students
4 Teachers (3 Permanent & 1 Temporary English teacher)
35 Boys and 35 girls in school at the moment
The school follows primary level teaching. Subjects include English, Mathematics, Nepali, Science.
The school is a government community based teaching school.
| | |
| --- | --- |
| Class | Numbers |
| Class 1 | 16 |
| Class 2 | 14 |
| Class 3 | 14 |
| Class 4 | 15 |
| Class 5 | 11 |
| TOTAL | 70 |
Interior and exterior
Classrooms
How can you help?
Basnet Guan school urgently needs help to reconstruct the building so children can study in a safe environment and attend school throughout the year.
The school in Basnet Gaun requires 5 new classrooms for the students.
Cost of building 1 classroom £5,700
Cost of rebuilding the whole school £30,000
OAUK has set a target to raise £30,000 to rebuild the school.
OAUK is working with MZ & KZ Shah Foundation (Registered Charity Number 1061589) whom are experienced with re-building schools in Nepal.
http://mydonate.bt.com/events/oshwaleverest2018/465766
---
To learn more about Oshwal Everest Trek 2018, click here.