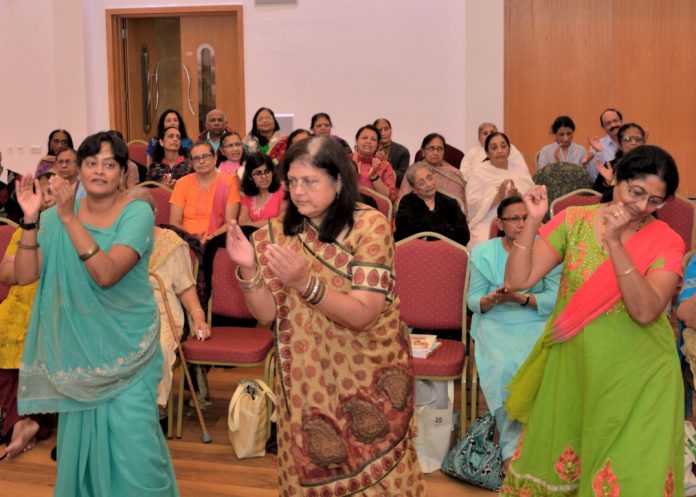 Bhakti for Aug 18 was sponsored by Punja Deva Family & Velji Vaja Malde family – Haste Bhartiben Sailesbhai and Hinaben .
Bhakti was held in In memory of Sailesbhai's father Punja Deva Shah, mother Sonaben, his brothers Jayantibhai, Mahendrabhai, Ashokbhai, brother in law -Harshitbhai & sister Shardaben, Bhartiben's father – Veljibhai Vaja Shah , mother Motiben & brother Nitin.
Hinaben's father Rameshbhai Tarachand Gudka & mother Shardaben.
Yet again a wonderful spiritual evening of bhakti attended over 150 people. The audience was fully engrossed in the bhakti as can be seen in the video prepared by our hardworking volunteer – Vimalbhai. Yet again lots of positive feedback from both the audience and the sponsors. My thanks to everyone who helps to making the monthly bhakti a very enjoyable experience.
OAUK North West Bhakti Aug 2018 from Oshwal UK on Vimeo.
Feedback from the parivar
Thank you Maheshbhai. We reaĺly enjoyed this evenings bhakti all our invited guests enjoyed very much keep up the good work please pass our regards to the whole team from bharti & sailes
Thank you Maheshbhai. Please pass our thanks to all the team. Very nice bhakti. Everyone enjoyed and the atmosphere was amazing.
Hina
---
Back to North West page.