Bhakti for Jul 18 was sponsored by Nileshbhai Gosarbhai Gudka's parivar in celebration of the forthcoming wedding of their beloved daughter Khilna to Meer, son of Sanjaniben and Dilipbhai Govindji Gosrani. Bhakti also in memory of Nileshbhai's parents: Monghiben (38 years ago), Gosarbhai (9 years ago) & Shilaben's father: Premchand Lakha Zakharia (11 years ago) & in celebration of Nileshbhai's 60th Birthday next month.
Another wonderful vibrant evening of bhakti attended by over 150 people. The audience was fully engrossed in the bhakti as can be seen in the video. As always, lots of positive feedback from both the audience & Nileshbhai's family. It was great to see new people joining in the bhakti and some of them coming forward to tell us that they really enjoyed it and will come again. My thanks to everyone who helps to making the monthly bhakti a very enjoyable experience.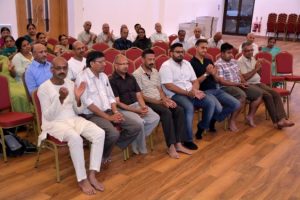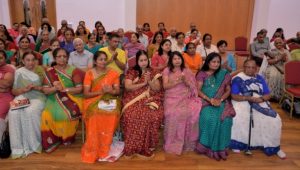 Feedback from the parivar
Jai Jinendra Maheshbhai.
We Thank you and your team from bottom of our hearts for making our day by organising and delivering such a beautiful Bhakti yesterday. Everyone thoroughly enjoyed it.
Once again heartfelt thanks, from Gosar Raimal parivar.