Bhakti for 26th September 2018 was sponsored by Family of Late Premchandbhai Vershi Shah & Late Jamnaben Premchand Shah – Haste Benaben and Navinbhai, Arunaben and Mahendrabhai, Bachubhai and Sunandaben, Jayshreeben and Kiritbhai, Manojbhai and Mitaben, Shailanbhai and Devalben. Bhakti was held in memory of Premchandbhai & Jamnaben.
Once again, a wonderful spiritual evening of bhakti with nearly 100 people attending. This month we were fortunate to have our famous singer – Nituben Shah in the audience from whom we had the privileged to hear a wonderful song and it was also great to have a young member of the family sing a beautiful song. Excellent feedback received from the family, Nituben & members attending the bhakti. My utmost appreciation for everyone who help make the monthly bhakti a very spiritual & enjoyable experience.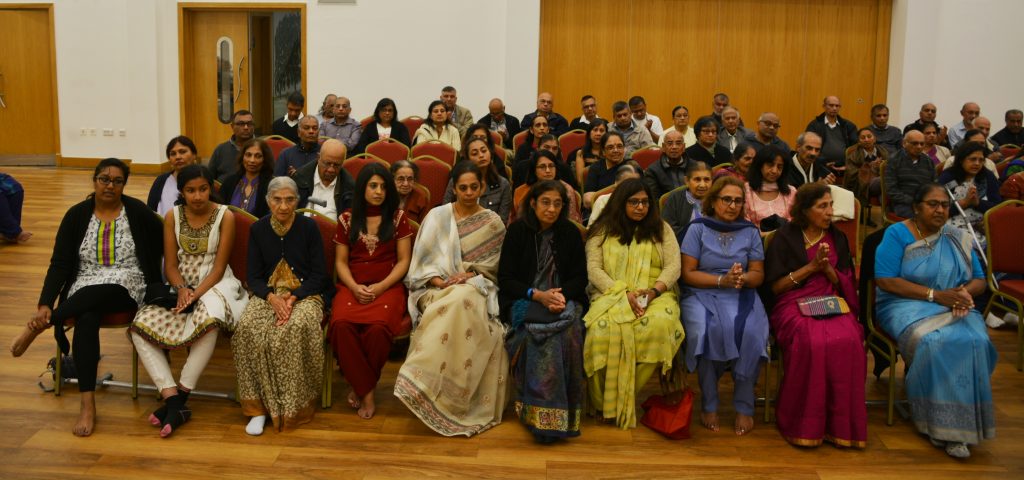 Feedback from Jayshreeben:
Thank you for the beautiful bhakti. All the youngsters enjoyed it. I had family members who came from Slough and South London. Also, one of my cousins complimented that how wonderful you were as you explained in both the languages.
Feedback from Nituben:
We had a wonderful time tonight at Ekta Centre!
Very good choice of bhajans and stavans. Many I heard for the first time. You all sang very well! X
Come and join us at our next Bhakti on 31st October 2018