Bhakti sandhya at Oshwal EKTA Centre on 21st Aug 19 was sponsored Diptiben, Rumitbhai, Jyotiben, Michaelbhai and Sienna to celebrate Diptiben's 60th and also the birth of Sienna 4 weeks ago. The bhakti was also in memory of Laljibhai Kachra Shah, Manuben Lalji Shah, Virparbhai Parbat Gudka, Gangaben Virparbhai Gudka, Punjabhai Devshi Haria & Jasmaben Punjabhai Haria.
Once again a wonderful spiritual evening of bhakti with over 140 people attending the bhakti. Everyone was totally immersed in the bhakti. Lots of positive feedback from both the parivar's family and the audience. My utmost thanks and appreciation for everyone who help make the monthly bhakti a very spiritual & enjoyable experience and a very special thank you to Dilipbhai who stood in place of Vimalbhai this month to take photos and video of the bhakti.
Brilliant feedback received
In a word _ MARVELLOUS
Very well organised, lovely songs and a lot of spiritual information.
Thank you very much indeed, Maheshbhai.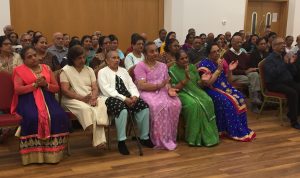 ---
Come and join us at our next Bhakti event on 25th September 2019