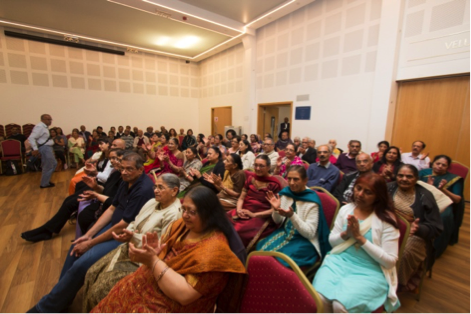 Our regular monthly bhakti@ekta for both Jun 17 & Jul 17 were sponsored and great evenings with nearly 250 people immersed in the bhakti and joined in the garba . Lots of positive feedback from both the parivar's family and the audience.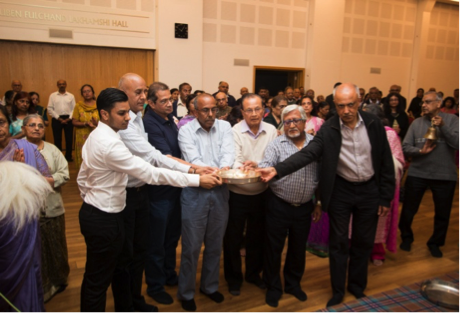 Jun 17 – Bhakti sponsored by parivar of Rambhaben Devchand Shah haste Vimalbhai & Jaymalbhai in memory of Late Devchandbhai Panachand Shah, Mrs Kanchanben Devchand Shah and Mr Shantilal Gulabchand Shah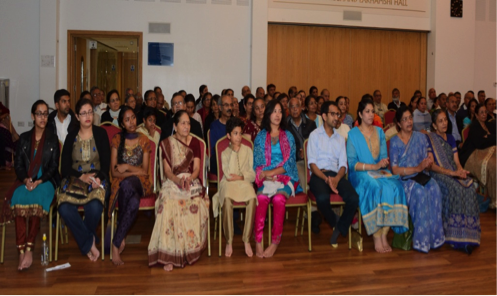 Jul 17 – Bhakti jointly sponsored by parivar of Saileshbhai Mohanlal Shah Kirtidaben Sailesh Shah & Ranjanben Chandulal shah in memory of Mohanlalbhai Popatlal Shantaben Mohanlal Shah, Somchandbhai Raishi Shah, Shantaben Somchand & Sanjay Yatin Shah.
Come and join us at our next bhakti on 20th September 2017
108 Parsvanath Bhaav Yatra : 9th July 2017
The 108 Parsvanath Bhaav Yatra was attended by over 250 people and thoroughly enjoyed by all. A lot of organizing was required and thank to everyone who helped especially the set -up, catering team & Jayeshbhai for making it a success. My special thanks goes to the families who took the labh of Arti,Mangal Divo, Akshat, Nived, Fal and Swamiyatsalya and also everyone who took the bhaav pooja nakras and gave donations towards the Parsvanath bhaav Yatra
khub khub anumodna
Paryusan Parva : 18th Aug 17 to 25th Aug 17 @ Harrow Leisure Centre
Paryusan Parva for this year was celebrated with a lot of enthusiasm and what a great success it was. We would wholeheartedly like to thank everyone including the volunteers , donors, tapovan veer sainiks (Kalpeshbhai & Prashambhai), musicians and the sangh who helped to make all happen . Full report to follow.
Distinguishing Truths with Dr Minalben Shah : Mon 18th Sep 17 8pm to 10pm Ekta Centre
Please come and join us for an evening of spirituality and bhakti with Dr Minalben Shah who is a senior teacher from Shree Raj Saubhag Ashram in India. Following the path shown by Bhagwan Mahavir, she has been deepening her practice of medication under the guidance of her spiritual teachers in the Jain tradition for over 30 years.