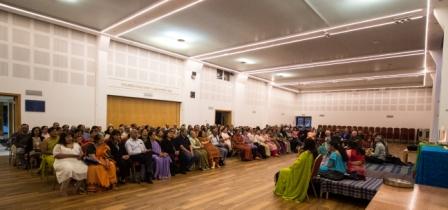 Our regular monthly bhakti@ekta for June 2017 was sponsored by parivar of Rambhaben Devchand Shah haste Vimalbhai & Jaymalbha in memory of Late Devchandbhai Panachand Shah, Mrs Kanchanben Devchand Shah and Mr Shantilal Gulabchand Shah. A brilliant evening with over 200 people immersed in the bhakti and joined in the garba .
Please also see below link to the video of bhakti to be inserted.
Lots of positive feedback from both the parivar's family and the audience. Feedback from Vimalbhai & Ritaben:
Jai Jinendra Maheshbhai,
We had an excellent Bhakti in memory of my mum Kanchanben, dad Devchand Panachand and brother in law Shantilal Shah. The singers -Nilamben, Kirtidaben and Jayshreeben again performed brilliantly with masterpiece music by the talented musicians. It was brilliant to see the ladies playing  garba and took the bhakti to even a higher  vibrant level . Many of our guests had attended bhakti for the first time and were amazed  and said " we did not know that there was a such fantastic , well organised  regular monthly event and they will definitely  try and attend future bhakti's". It was nice to see many regular satsangis coming over the last few months and younger generations attending. The singing and music was spot on and Maheshbhai gave a good introduction of the Stavans with explanations. It was an exceptional evening that was so uplifting that you cannot forget the dearly departed no matter how long they have left us. Finally we would like to say a massive thank you to all friends, family, the volunteers and the Bhakti team and to keep up the good work and all for supporting Bhakti @ Ekta Centre.
Jai Jinendra 
Vimal and Rita