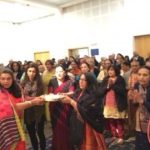 Bhakti Sandhya @ EKTA
The regular monthly Bhakti@EKTA on Wed evenings has now been going for nearly 2 years and is enjoyed very much, with lots of positive feedback by those attending.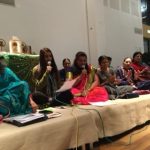 NW OAUK committee is very grateful to the sponsors of the Bhakti and also to the family of Late Jivraj Khetshi Shah – haste Dinaben Shashi & family for donating a beautiful parsvanath bhagwan's pratima which will be of great use for our regular bhakti.
For the past few months, we have had sponsors for the bhakti and are very grateful to the following families:
May 16: Nilam Mahesh Shah parivar in memory of Liladhar Kanji Shah & Viraben Liladhar Shah
Jul 16: Kanchanben Amratlal Kanji Ganji Shah parivar in celebration of Amubhai's birthday.
Aug 16: Kasturben Somchand Shah parivar in memory of Somchandbhai Meghji Shah
Sep 16: Devrajbhai  Karamshi Parivar  haste Manharbhai, Dilharbhai & Premharbhai parivar in memory of Benaben
Oct 16: Himatblalbhai Mulchand Lakha parivar in memory of Chetanbhai, Mulchandbhai, Dematben,  Laljibhai & Jayantibhai .
Come and join us at our regular monthly bhakti.
Bhakti Sandhya
Date: Check the OAUK event's calendar
Time: 8:00pm to 10:00pm (doors open at 7:45 pm)
Oshwal EKTA Centre (VFL Hall)
366A Stag Lane, Kingsbury, NW9 9AA
For further information or sponsorship of Bhakti, please contact …
Mahesh Shah – 07804 648 197