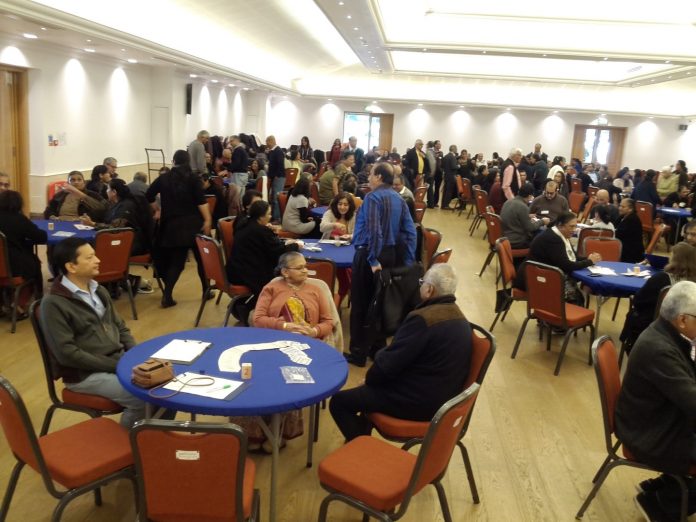 Bhukhar 2016
This was our 7th Bhukhar Competition event and we received highest record number of entries, a total number of 72 entries from Luton, South West, North, North East, East, Northants and North West areas.
Everybody enjoyed delicious breakfast which was made up of Makai-pawa, biscuits, assorted khakhras, bananas, tea and coffee. Everybody settled down to play after a brief explanation of rules by Bharatbhai, while soft melodious music was playing in the background.
This year, two winner groups were formed- Premier and Champion Group. Second half of the competition was organised to be played differently.
Before the prizes were awarded, Ushaben made a speech, whereby she thanked "Three Musketeers" namely Rahulbhai, Bharatbhai and Pradeepbhai for the co-ordinated organisation of this event which enabled it to run very smoothly,
Special thanks were conveyed to:
Saileshbhai and North West Area for letting us borrow table cloths, playing cards, clip boards, table numbers, pens etc..
Rahulbhai, Pradeepbhai and Bharatbhai and all the volunteers coming in so early to set the upstairs hall and clearing up after the games.
All the Northamptonshire Committee Members, who were present, for setting up the downstairs hall, preparing tea, serving breakfast, lunch and afternoon refreshments.
Dips catering for preparing lunch.  Hansaben for preparing the delicious ladoos.
Aswin Babulal Shah for arranging transportation on tables and EC committee for allowing us the use of Oshwal Centre.
Manubhai and Kirtibhai for ensuring venue requirements are met.
Deepak for arranging the music.
Oshwal Centre has provisionally been booked for 5th November 2017 for next year's competition and once again Rahulbhai and the Northants committee will work together to ensure maximum participation.
PREMIER GROUP – WINNERS

Diamonds
Jayaben, Taraben and Pankajbhai

Runners Up

Aces – Manoj Gudka, Kewal Shah and Sujan Shah

2nd Runners UP

Lucky Stars

Pravina Shah Tanuja Shah and Raju Shah

CHAMPIONS GROUP

WINNERS-HUGGERS

Vipul Shah, Kishor Batavia and Jyostna Shah

RUNNERS UP

Rajubabu – Hemal Shah, Rajesh Harakchand Shah, Sarojben Shah

2nd Runners Up

3 Amigos – Pradeep Shah, Sahil Rupani, Bharat Nemchand