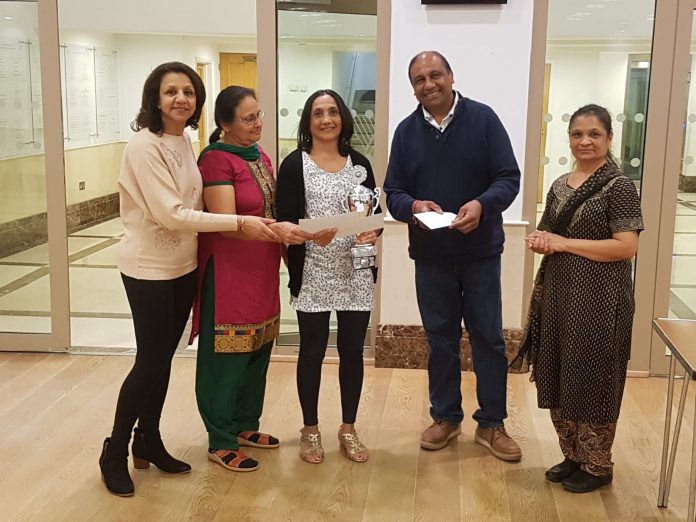 Congratulations to the winning team named "Friday" consisting of Divya, Pradeep and Rahul.
Click HERE to view the full set of photos
The week before the Bhukhar tournament we had only managed to fill 12 tables. However, we had been reassured that most entries would sign up at the last minute. With everyone's help, we managed to fill 25 tables for the event, consisting of 50 teams and 150 players.
On the day of the tournament, we had arrived at the Oshwal Centre at 6am, to prepare for the day ahead. Breakfast was served before the start of the tournament which began at 9:30am, just after prayers and a welcome speech by Sandipbhai. Lunch was served just after 1pm, and was prepared by volunteers from both the North and South London areas, under the guidance of Madhuben.
The tournament came to an end at 4:30pm, and was followed by an award ceremony with tea and biscuits, where Rajeshbhai (South Area Vice Chair) along with the pair of us gave a thank you speech to all of the attendees and volunteers of the South Area Bhukar Tournament 2019.
We would like to take the opportunity to thank Rahulbhai, Bharatbhai and Pradeepbhai for the running of the tournament. As well as, the North West Area for providing us with the tables, cards and all other essentials needed to carry out the event successfully. Of course, the wonderful team in the kitchen for all of their hard work, and everyone else that had helped out both before and during the tournament. Last, but not least, we would like to thank all of the participants, of which the event would not have been made possible without.
We both feel that the months of planning and preparation had paid off, as the South Area Bhukar Tournament 2019 was incredibly enjoyed by all. We have once again achieved what we had set out to do, and this has motivated us to organise further events.
– Pushpaben Bhimjibhai & Nutanben Sandipbhai