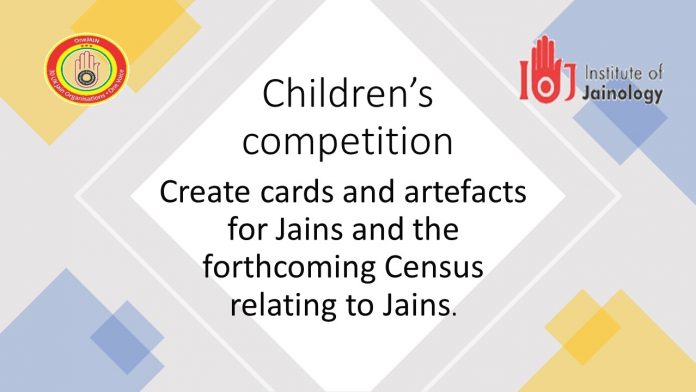 Children's competition:
Create cards and artefacts for the forthcoming
Census relating to Jains. 
OneJAIN is pleased to invite entries as below from our children in a competition for making cards, video clips, or any model craft about Census 2021.
A census in England will be held on 21st March 2021. This census is important for us. The information collected will help the government and local authorities plan services like schools, doctors' surgeries and libraries.
The Census form will be in two formats, digital or a hard copy. For question number 16 on these forms, you are asked to specify your religion. Here we recommend that you choose OTHER box and select JAIN (write or type).
We are setting up a competition for children to create cards, video clips or a model about the theme we are adopting for the census Select Other Choose JAIN  in form of a text card, a video clip or some kind of model to enable us to be counted as Jains.
Your creation should be colourful and attractive.
Text can talk about Census 2021 – how often it takes place and its importance or anything else that is relevant.
There are two categories for entry:  Children up to 10 years old and those who are between 10 and 15 years. We will award four prizes in each category.  These are the attractive prizes. A panel of independent Judges will select the winning entries.
Last date for submission is Monday 22nd February.
You can email the photos of your entry to:    compicensus@gmail.com
Winners will be declared on 27th February at a special online programme to be arranged by OneJAIN. Invited dignitaries will announce the winners.