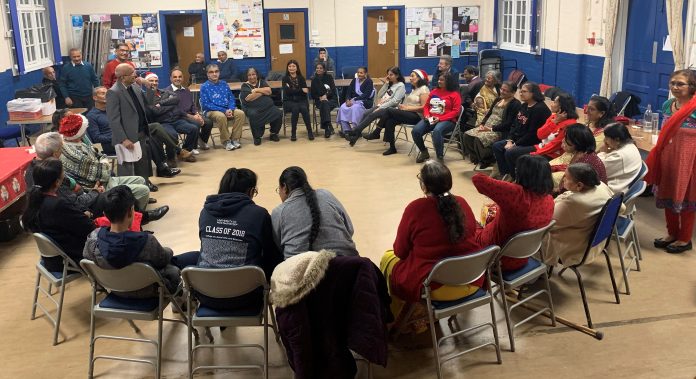 Northampton Christmas Party 2019
Christmas came with a bang for Northamptonshire annual Christmas party held on Saturday 14th December 2019. The event was well attended with about 50 members and including a few children. Many members were in festive clothing with Christmas songs playing in the background and even a small Christmas tree was put up. We also decorated part of the hall with some tinsel etc to make the event look more festive.
The evening was packed with some exciting games and activities.  We started off by warming up to some exercises, super brain yoga under Gitaben's guidance and laughing yoga under Pravinbhai's guidance.
Light refreshments comprising of Paav Bhaji, onion kachumbar, sandwiches (for the kids), nut mix, tortilla crisps, and various dips were served.
We played the ever popular pooing the potato game which filled the hall with a lot of laughter, however by the end of the game we had some very bruised and battered potatoes left. Thereafter we played passing the parcel and some very interesting and entertaining scenarios were enacted as forfeits.
Jivrajbhai shared some jokes with us.
Before the end of the evening we celebrated three birthdays with an eggless cake and a vegan cake.
Finally, the committee would like to thank all the volunteers who helped to set up the event and clean up afterwards.
For more photos please click here
By Mona Rupen Shah