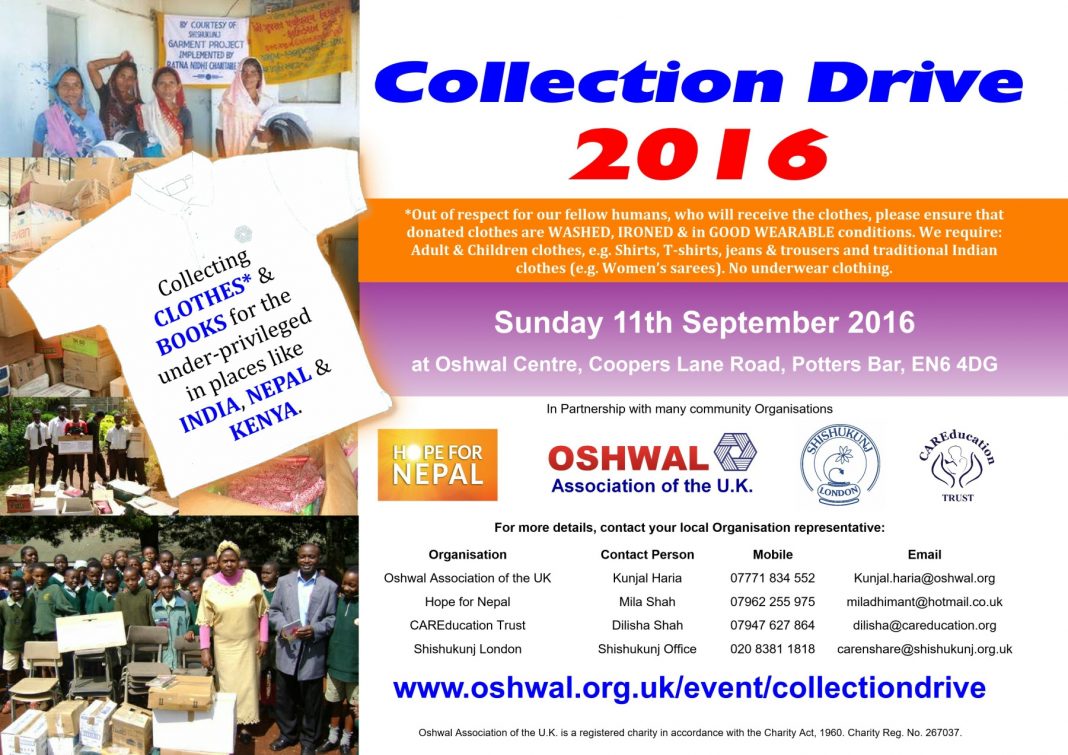 Our Association is working with many other organisations to make collection of Clothes & Books for the under-privileged. Below is a brief description of the various other organisations and key contact details for each organisation. For more info on collection dates for each respective organisation, click here.
Oshwal Association of the UK

Kunjal Haria, (M) 07771 834 552 (E) kunjal.haria@oshwal.org

Hope for Nepal's Children

Mila Shah, (M) 07962 255 975 (E) miladhimant@hotmail.co.uk

Hope4Nepal is about rebuilding schools in Nepal after the devastating earthquake in 2015 when thousands of people died and millions needed help. A team of us have been fundraising and earmarked for rebuilding over a 100 classrooms in 18 schools in remote areas of Nepal. Charity No for MZ and KZ Shah foundation: 1061589. Social Media link: click here.

Careducation

Dilisha Shah, (M) 07947 627 864 (E) dilisha@careducation.org

"Every child deserves the right to an education and a life free from abuse, poverty and discrimination."

We believe education and vocational training can provide people with that one chance to a better life. It is their only escape from the cycle of illiteracy and poverty they are born into. We do not believe that handouts are the way to help children fight out of poverty. Investing in the children and they futures is the way to make a difference. We work on the basis of zero administration costs. 100% of your donations reach directly at the grass roots level. No trustee or officer is paid any remuneration nor reimbursed any costs or expenses.

LET'S GIVE THEM THE CHANCE THEY DESERVE. After all, what can be more rewarding than knowing that you have made a difference to a child's life and given them a fighting chance for a better future?

Website: click here.

Shishukunj

Shishukunj Office, (M) 020 8381 1818 (E) carenshare@shishukunj.org.uk

Shishukunj is a children's charity that has been working in London for over 30 years. Through the medium of Indian culture, we try to instil morals and values in children from the age of 5 upwards so that they become responsible and respected leaders of tomorrow's society. We have three centres in London that cater for over 450 children each Sunday. We also organise a host of annual activities that include celebrating major Indian festivals, events to help the needy and camping trips. Our philosophy is rooted in the concept of "Gamat Saathe Gnaan" or "Learning through Fun" and we aim to ensure that everything we provide is always enjoyable and educational at the same time.

Website: click here.

Veerayatan

Veerayatan (Charity No: 1052906), is a non-profit, non-governmental organisation that strives to uplift and empower humanity through the three jewels of humanitarian service (seva), education (shiksha), and inner development (sadhana).

SCVP is the main activity of the UK arm of Veerayatan. SCVP strives to impart moral and ethical values, Jain cultural heritage and simple humaneness with emphasis on teaching 'universal' values such as compassion, honesty, love, happiness, unity and charity. The school aims to instil confidence and spiritual values in children and adults so that they have the strength and wisdom to make better choices in today's competitive and stressful world.
Back to Collection Drive event page.