Jai Jinendra and Pranam,
Dear Members,
We are very pleased to inform our Members that Oshwal Association of the UK has been presented with the OneJAIN Excellence in Community Service Award for outstanding public service during the Coronavirus Pandemic (COVID-19).
Our Association was one of over dozen communities presenting the work they all had undertaken during the pandemic. Tusharbhai, our Acting Treasurer, and I attended the virtual online OneJAIN Conference on Saturday 27 June 2020, where the award was announced.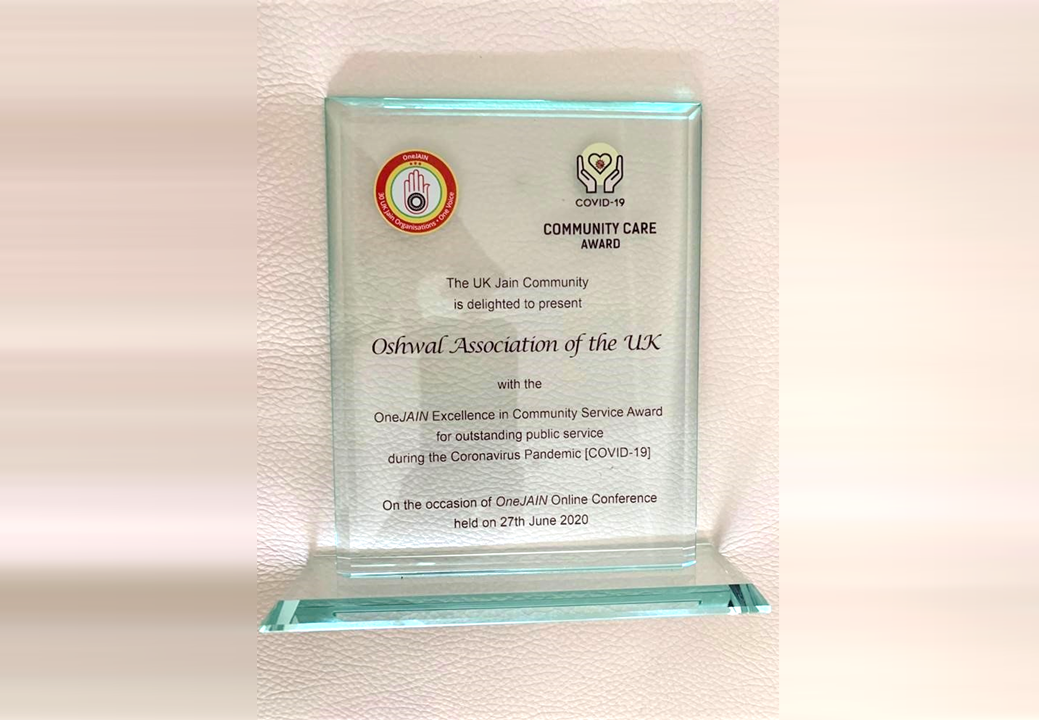 This award would not be possible without the huge volunteer taskforce which came into action by selflessly giving their time and energy to help the community at a time of great need, in helping the elderly and those in self-isolation due to COVID-19.
A huge thank you to all the volunteers on the front-line making deliveries and volunteers behind the scenes helping co-ordinate this truly national effort across all Areas of our Association.
This award shows that the great strength of our members to roll up their sleeves in times of need and get on with the task at hand. So once again, a big thank you to everyone who contributed to the Oshwal Sewa efforts with just simple straightforward uncomplicated actions.
Jai Oshwal,
Nilesh Bhagwanji Shah
OAUK Hon. President
Email: president@oshwal.org
---
Updated: Sunday 28 June 2020