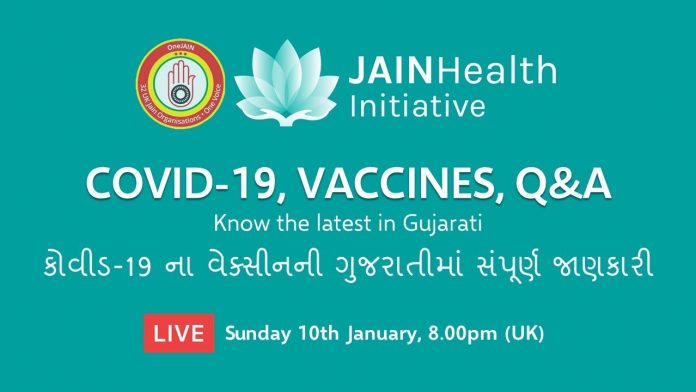 32 Jain Organisations together with One Jain presents
COVID-19, Vaccines, Q&A – Know the Latest IN GUJARATI!    Session 1
Specially for our elders to know the latest information, with Q&A session.
Date & Time: Sun 10th Jan at 8.00-9.30pm (UK)
Medical Experts:
– Miss Jyoti Shah, Consultant Urological Surgeon, Burton-on-Trent
– Dr Khyati Bakhai, General Practitioner, London
– Dr Anuja Shah, General Practitioner, Luton
– Dr Ameet Bakhai, Cardiologist & Research Director, London
– Dr Rajvee Punatar, Research Scientist, London
Join us LIVE on YouTube for the first event of new Jain Health Initiative.
YouTube Link: One Jain YouTube Channel
http://youtu.be/Q7g-6IDLWa8
This event is open to all.
Please share the invite with all GUJARATI friends and family