WEDNESDAY 15TH MARCH 2017 – OSHWAL EKTA CENTRE – FIRST CDP SEMINAR WAS HELD FOR A DENTAL UPDATE ON IMPLANTS
Article by, Priya Shah
On Wednesday 15th of March, a group of enthusiastic dentists gathered for the first (of many) Oshwal Dental Seminars to learn about dental implants. Many thanks to the organising committee for a great evening.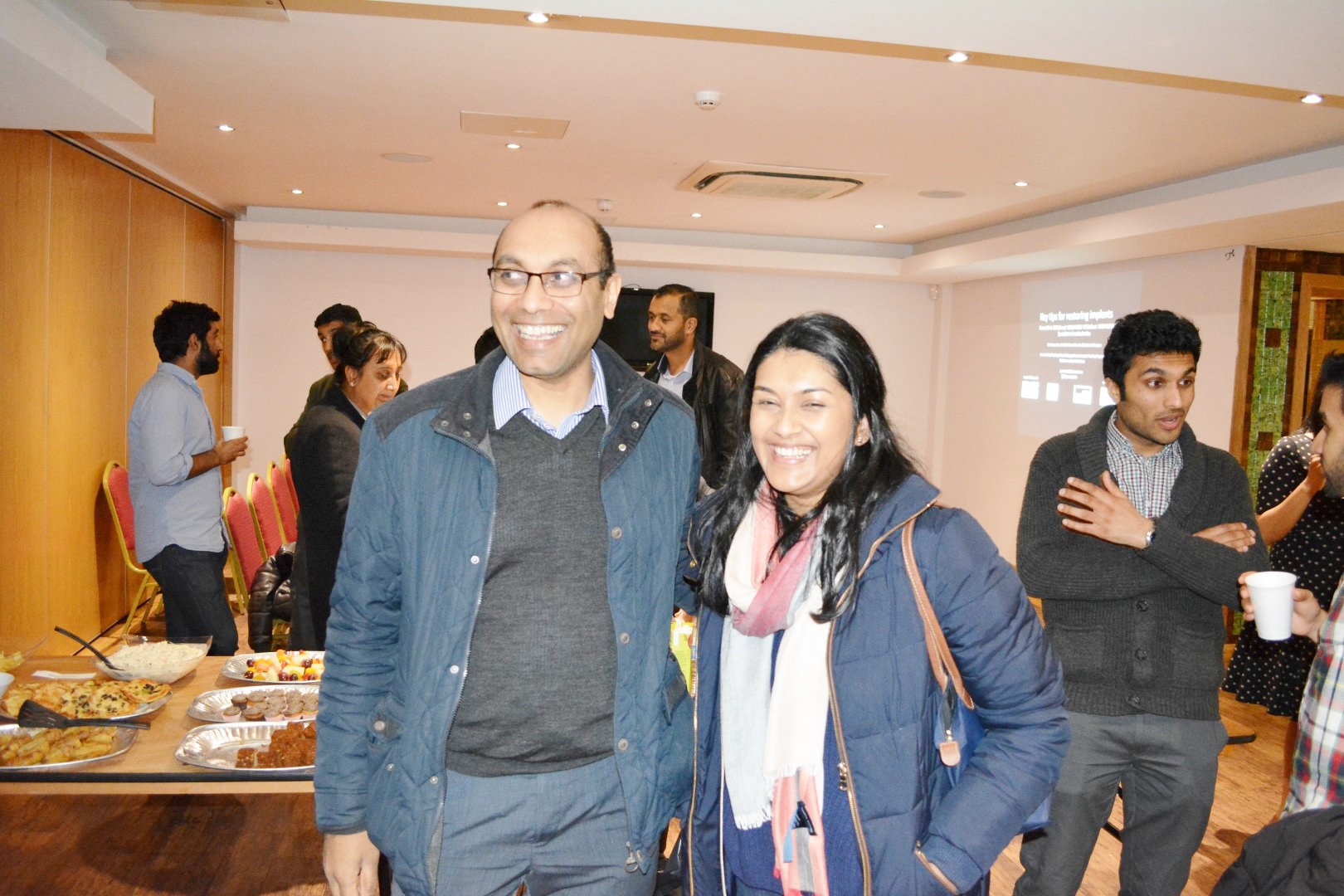 I guess the profession are known for their fondness of a sweet treat or two and we were most definitely not disappointed. The lovely Shama prepared an assortment of sweet cakes, pastries and even pizzas. There was plenty of time to mingle with other smile creators including recently graduated dentists to our more seasoned practitioners.
Pareet Shah provided a synoptic view of implant placement along with a cracking a joke or two. Pareet is currently the Deputy Programme Director for the Implant Diploma course at the Eastman Dental Institute. We discussed how to restore and maintain implants which is especially useful for GDPs who may not themselves place dental implants.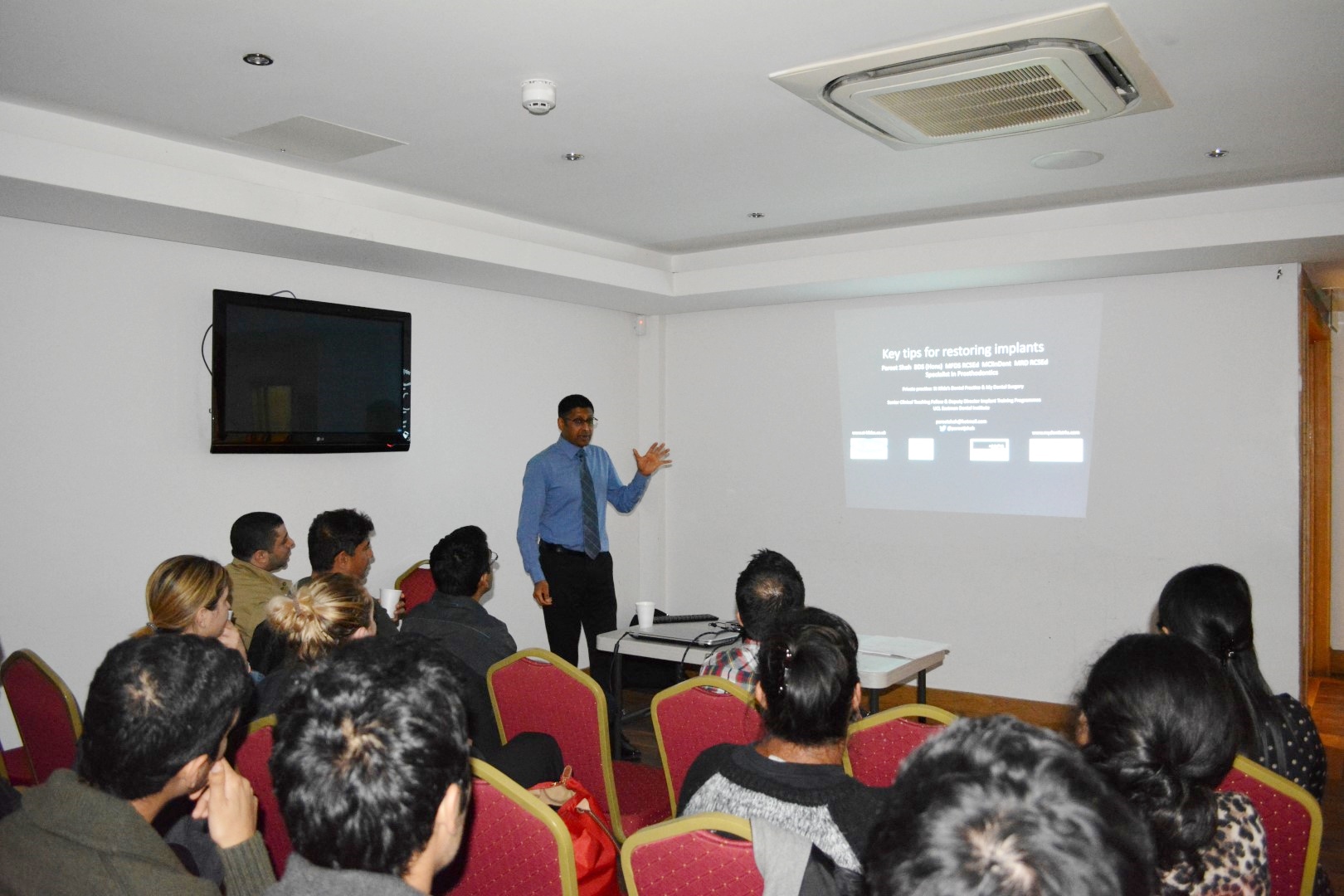 We learnt about the stages involved in obtaining an implant impression and the importance of effective communication with dental laboratories to improve chances of a well-placed implant and a happy patient ( = happy dentist!). Pareet stressed the advantages of a screw retained implant (over cement) in terms of maintenance and cleansability. It was very beneficial to watch some videos of Pareet in action, restoring implants on patients in practice.
Then we enjoyed a small refreshment break with tea and cakes.
Next, we were lucky enough for Shama Shah to share her insights from the time she spent serving on the investigating committee for the General Dental Council. Shama explained the current requirements in carrying out implant dentistry including ensuring any teaching courses adhere to GDC standards. As always, a key principle in all facets of dentistry is consent, and this couldn't be more relevant in the ever-advancing world of implants.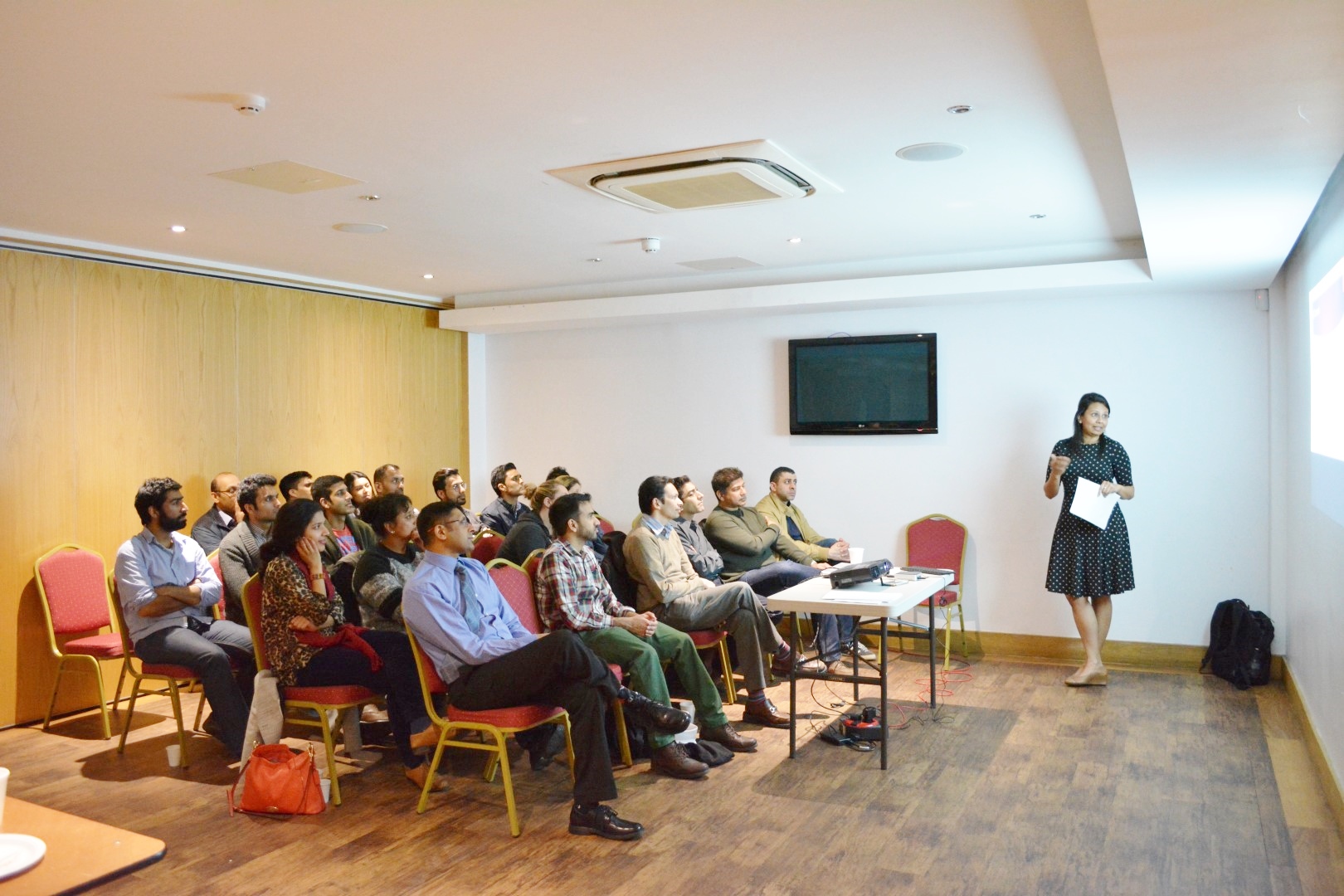 I'm certain that we all found the evening valuable and are eagerly anticipating our next dental meeting. We were all provided with a verifiable CPD certificate. I would say that the informal but informative environment was welcoming. So, I encourage all the other Oshwal dentists to come out of their surgeries and come and join us for a cup of tea and some great CPD.
---
Meet the Speakers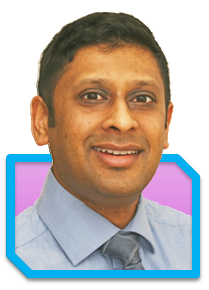 Pareet Shah BDS (Hons) MFDS RCSEd MClinDent MRD RCSEd
Specialist in Prosthodontics
Pareet graduated with distinction from King's Dental Institute in 1999. Following a variety of practice and hospital positions, he commenced Specialist training in Prosthodontics at the Eastman, which he completed with distinction in his MClinDent. Currently he divides his time between specialist practice and teaching. Pareet is also Deputy Programme Director for the Implant Diploma at the Eastman, where he trains dentists in both surgical and restorative aspects of implant provision. He also runs short CPD courses and has spoken at a number of conferences.
Shama Shah (BDS) Dip Implantology
Shama graduated from University of Bristol in 2008 and has since then worked in General Practice (private and mixed). She has attained a post graduate Diploma in Implantology from the Eastman Institute.
Shama has also been a member of the Investigating Committee for the General Dental Council for 2 years.
---
To see more pictures from the Seminar, click here.
Back to Youth page.