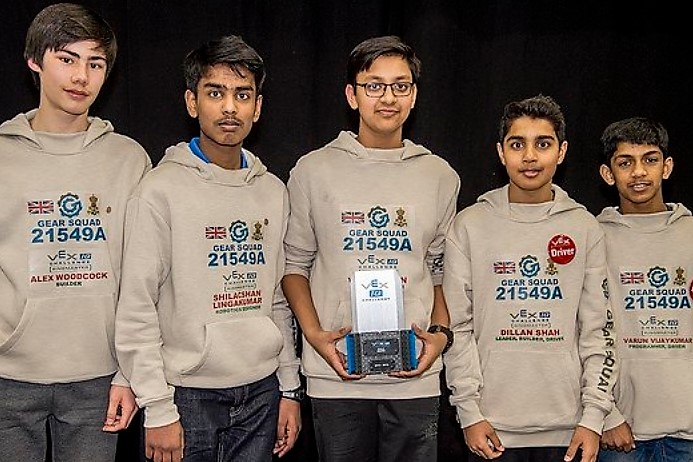 The following is a story shared by a Member.
---
Dillan Punit Shah, aged 14, son on Punit Amritlal Shah and Priya Punit Shah, has accomplished an enormous challenge in leading his team Gear Squad, consisting of 5 pupils including himself to outstanding success at the Vex IQ Robotics World Championships 2018 that have just been held in Louisville, Kentucky, USA. This robotics competition has been classified in the Guinness Book of Records as being the biggest in the world!
Dillan has been participating in a robotics club at Queen Elizabeth Boys' School, Barnet for the last 2 years. This year due to his commitment he was designated the role of Team Leader for team 21549A, called Gear Squad. The challenge was to design, build and program a robot to perform a specific complex task involving rings. This entailed creating detailed notebooks, visiting the KUKA robotics factory and conducting a STEM project. Dillan, also, out of his own initiative, contacted some of the UK's biggest companies and raised nearly £2,000 for the team. They qualified at National Level reaching World Level. Throughout the world, 22,000 teams participate in this competition. Gear Squad ranked 4th out of 80 teams in the Science Division at World's and won the 'Amaze' Award for designing, building, programming and driving a well-rounded and top performing robot.
The biggest surprise was at the grand finale where they were given the highest accolade possible being selected from a possible 400 teams present and receiving the 'Excellence' Award for Middle School level throughout the world. This is the first time in the UK, and even the EU, that a team has achieved such high recognition in the World Championships. The team have received much attention since their win a few days ago. Dillan is currently featured on the front page of the QE Boys School website with Gear Squad and was interviewed on 4 May 2018 and appeared on BBC London News with his team.
Dillan is very passionate about Technology and Engineering in particular. He aspires to be an aerospace or robotics engineer and is very aware of the fact that future generations will be competing and utilizing technology very differently in the years to come. He has already inspired his younger brother Niyam to follow in his footsteps. We hope that Dillan's passion and commitment can be used to encourage other young Oshwals too, to participate in such exciting opportunities as we are living in an ever-changing world. For any young Oshwals who may be interested, Dillan would be delighted to share his knowledge and experience with them.
---
Back to Homepage.