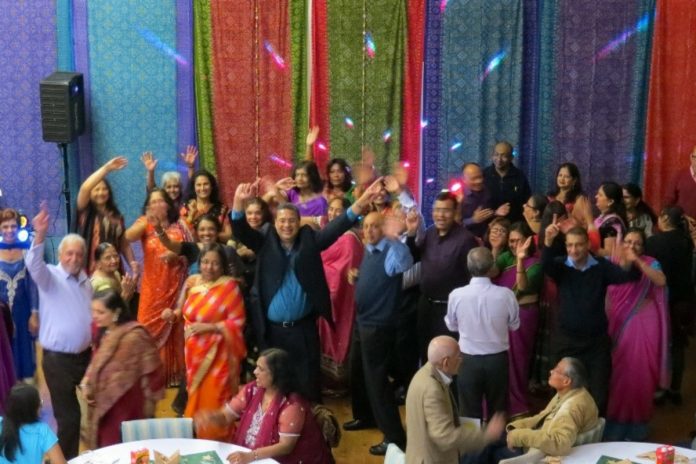 The annual West area Diwali event was celebrated on Saturday 22nd October 2016. Three weeks prior all 150 tickets were sold making this event a total sell out! Preparations started on Saturday morning with the volunteers making delicious dishes and transforming Oshwal Shakti Centre. Who would have thought the venue could look this good!
Guests started arriving from 6.30pm, and were welcomed with mithai and a glass of 'pure heaven'. After a few announcements and mouth-watering starters, the band 'Roopal Shah and Friends' took to the stage and sang some wonderful songs from the 50s, 60s, 70s and 80s that took everyone down memory lane!
With a mixture of fantastic songs from different genres, there was something for everyone! All the guests were entertained throughout the evening, and some even got on the dance floor early! After a couple of hours of great music, it was time for the finger licking main course which everyone enjoyed. After dinner it was time to get the dance floor rocking! The lights were dimmed and the place was jazzed up even more with disco lights! The band stepped up the music and sang popular olden golden dancing songs, while everyone filled up the dance floor from young to old and danced the night away!
Here are some of the wonderful comments that were shared by members of the West Area.
"We had a wonderful time @ Diwali Party and Well Done to everyone involved."
"Hope you all are recovered, we had a lovely time yesterday evening great effort put in. Fantastic evening one of the best with excellent food and music. Big thank you to your team."
"We would like to thank you for organising the wonderful event. We had a lovely time and enjoyed music till the end. Me & Nilesh would also like to thank Roopal & the band for taking us down memory lane with the golden oldies."
"Just to thank you very much for the Fantastic Evening on Saturday. Very well organised and very tasty food. Thank you to the cooks. The music was very entertaining and enjoyed Kesubhai' s favourite song 'Jhoom Barabar Jhoom Sharabi ' Thanks to all the volunteers. -"
"The Diwali function on Saturday was so very well organised. We really had a lovely time food was tantalising & enjoyed the music. The whole thing was wonderful xx"
For more photos of the rocking Diwali Celebrations please click here.
---
Back to West Area page.