Oshwal Association of the U.K. (OAUK) North West Area donated an amazing £13,925 to fund the purchase of a brand-new haemodialysis machine and treatment chair at Northwick Park Hospital's (NPH) renal unit, following a successful grant proposal by LNWH Charity.
The Renal Unit at NPH provides specialist nephrology and pre-dialysis care for patients with kidney disease, some of whom go on to require dialysis, a lifesaving treatment which removes waste products and excess fluid from the blood. Currently, over 300 people visit the Unit three times every week for their dialysis.
On Thursday 20th June 2019 Renal consultant's Dr Neill Duncan and Dr Megan Griffith, Head Nurse Claire Edwards and Administrators Pragna Shah and her sister, Charulata, welcomed Nileshbhai (NW Chairman), Kaushikbhai (Honorary Vice-President), Jayubhai (NW Religious) and Committee members.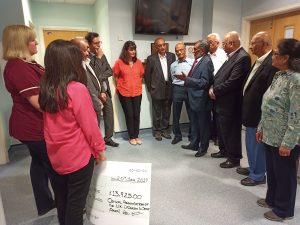 Kaushikbhai explained: "OAUK North West Area is the largest branch of the Oshwal Association and a very significant proportion of its members reside in the catchment area of the Northwick Park Hospital.
We are aware of numerous patients within our own community who are undergoing some form of renal treatment or another including dialysis so we understand the need for provisions of specialist equipment.
Therefore, the Area Committee, together with the support of the Trustees of the Oshwal Association, took on the task of raising money for the dialysis machine and the treatment chair when it was approached by the LNWH Charity.
After the cheque was presented Committee members where given a tour of the Unit and met with some of the patients.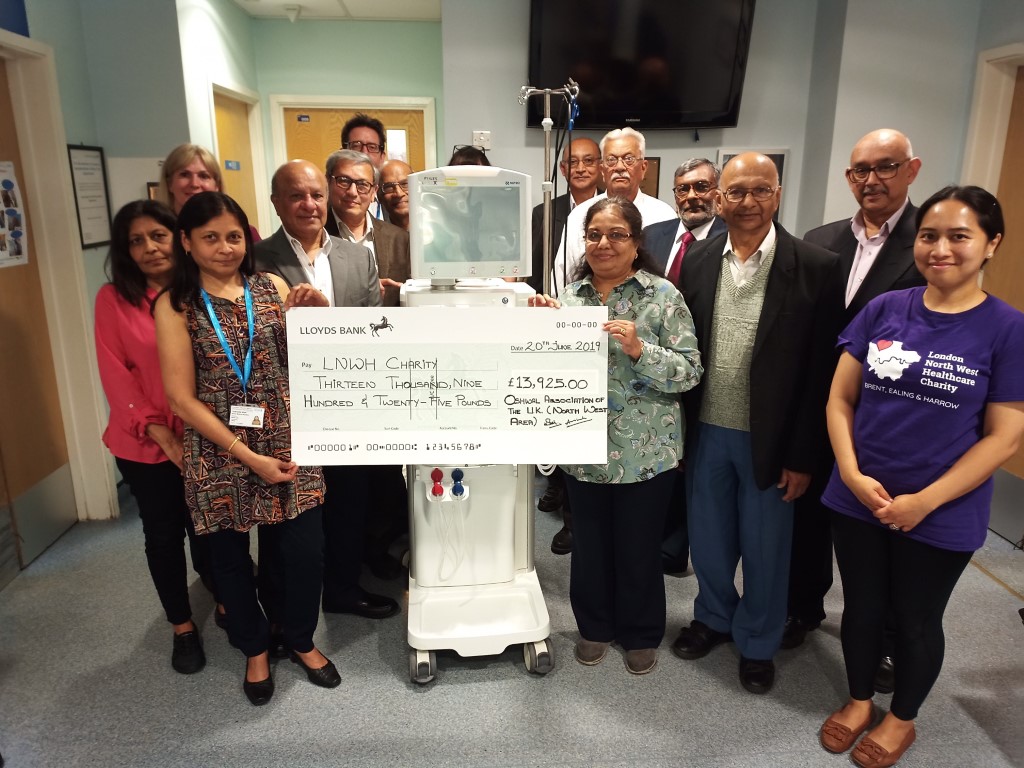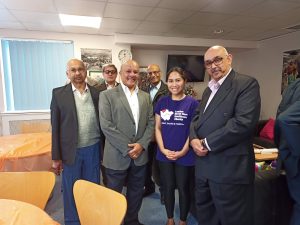 Jayubhai worked closely with Geraldine Kombonglangi –  Trusts and Foundations Fundraising Manager of LNWH Charity and was instrumental in OAUK's decision to support this project and he said:
"In adherence to our Jain principles of reverence of life as well as compassion, OAUK members have donated generously towards the raising of funds for a Dialysis Machine and Treatment Chair for Renal unit at Northwick Park Hospital in Harrow."
Megan Griffith, one of the renal consultants at Northwick Park Hospital expressed her gratitude saying: Northwick Park Hospital Dialysis Unit provides lifesaving treatment to local people with kidney failure; we are delighted to receive this very generous donation from the Oshwal Association of the U.K. and the Area Committee. This will help us to continue to expand to provide dialysis for more patients close to their homes.
We are extremely thankful to all our very generous donors who have wholeheartedly supported this very noble and worthy cause.
Nilesh Dhanraj Shah (Trustee, North West Chairman)