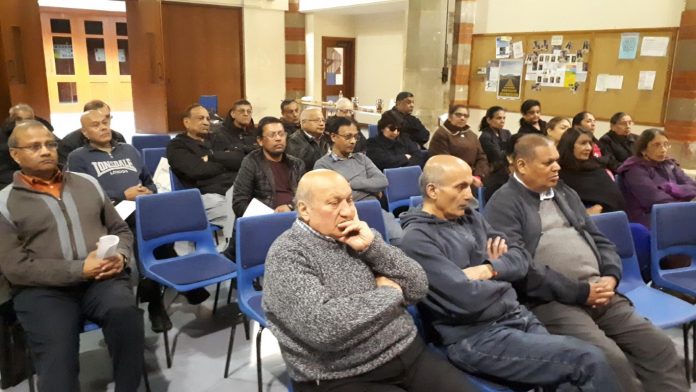 EAST AREA 45th ANNUAL GENERAL MEETING 6th APRIL 2019 SATURDAY.
The 45th AGM of the East Area was held at St Johns Church Hall, St. Johns Rd, Sevenkings, Essex on 6th April 2019 with a large oshwal members present. Everyone registered their membership and they were mingling with others.
The Chairman Kishorebhai Lalji Haria was not able to attend the AGM due to the sudden death of his sala Amubhai Shah in Nakuru. We pray Amubhai's soul rests in peace and he has done many charitable works in his life and also worked for the Oshwal. Also, Babubhai did not attend the full meeting as he had to go to the sadadi of Amubhai.
The meeting was conducted by the three office bearers, (Vice-chair) Lalitaben, Ambritlal Shah Ashvinbhai Virpar Shah, and Lataben Ashvin Shah.
The office bearers welcomed all members and a prayer was said before members were called to eat hot khichi, cold drink, tea, biscuits etc. Thanks to Chandanben, Ashvinbhai, Vinodbhai and Narrottambhai to make a delicious Khichi. Khichi is a favourite for some EC trustees and east area member.
Once everyone had their food all members sat down and the meeting started.
It was East area privilege to have our president, Nileshbhai Bhagwanji Shah, Sudhirbhai Meghji Shah, Ashvinbhai Jethalal Shah, Direnbhai Meghji Shah and Heminiben Raju Shah to be our guests for the AGM.
Lalitaben as the vice-chair for East Area chaired the meeting, and welcomed everyone and read the speech of Kishorebhai Lalji Haria.
Lataben as the secretary gave her report and in short mentioned about all the organised monthly events held in the east area.
Ashvinbhai our treasurer came all the way from Nigeria just to present his report as the treasurer of the East Area. Special thanks to Ashvinbhai to take care of our association and be part of the AGM. He gave his report and explained the accounts to everyone. And then he concluded if there were any errors or anything the public wanted to ask?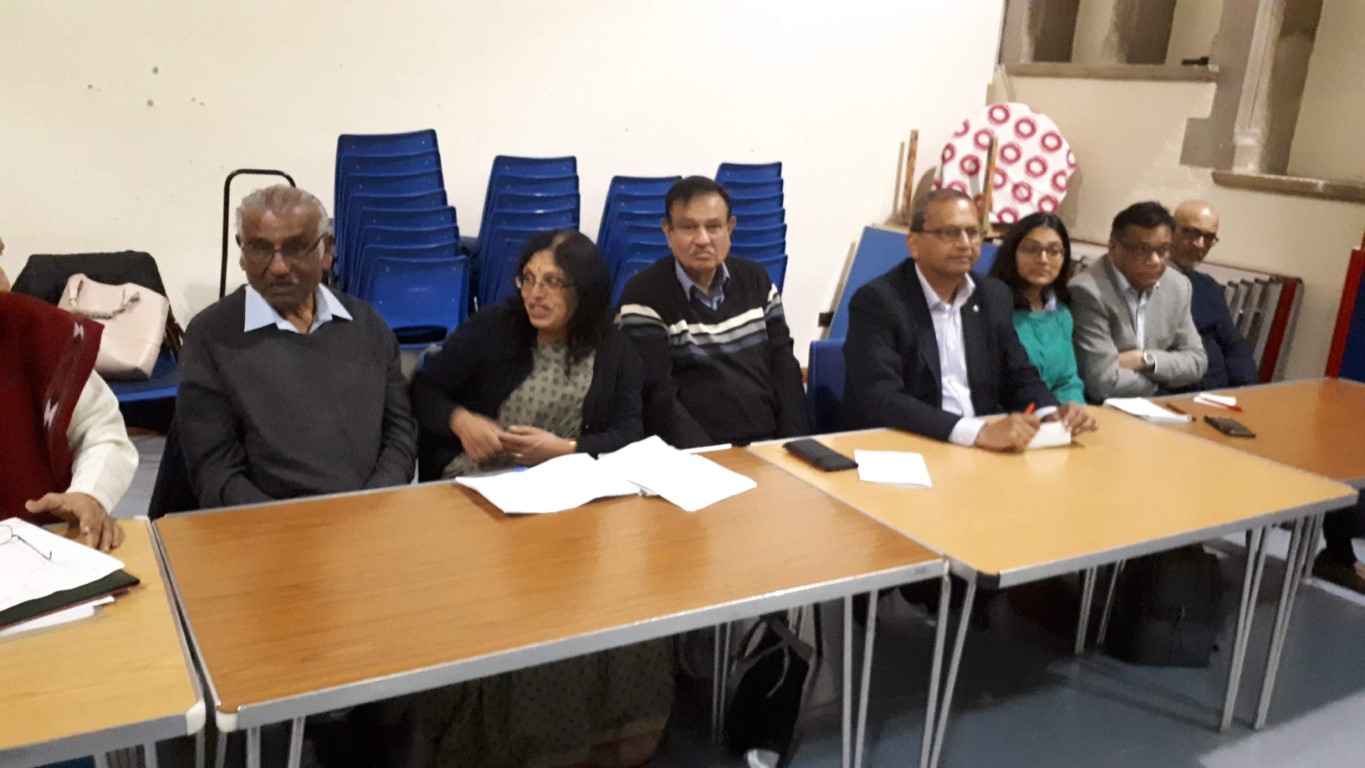 A report from Bhartiben Babulal Shah ( Religious ) where she mentioned about the MJK, Paryushan and Savanstri being the main activities in the area and celebrated to the best. Narrotambhai Raichand Shah gave his report and mentioned about his presence from beginning till the end of all programmes and makes sure that everything is going well. Nandlalbhai Ranmal Shah gave his report on Thursday club and how the members are enjoying. Babubhai Devji Shah report was about the media and oshwal news and was read by Lataben and thanks to Lataben. Yoga classes are running every Tuesday by Bhartiben and helpers.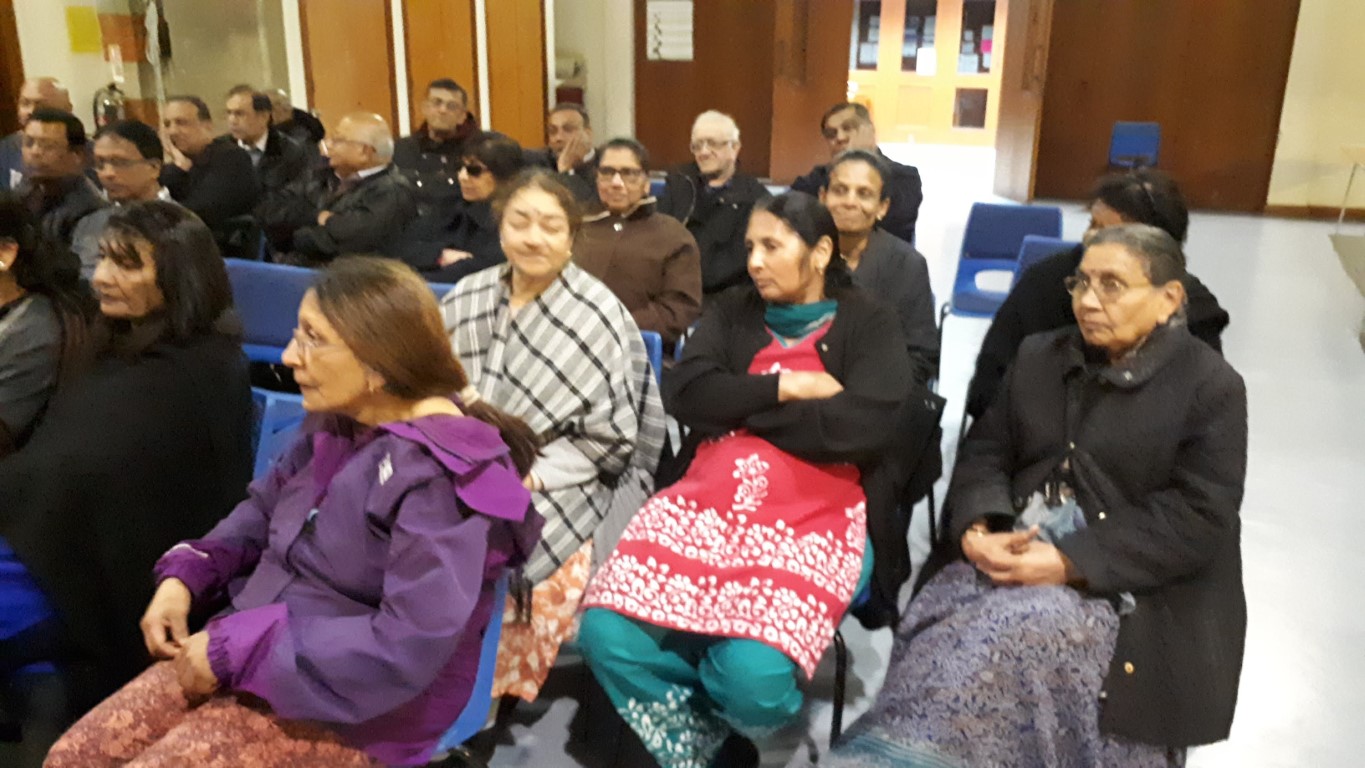 The public was given the opportunity to ask questions. There were not many questions from the floor and everything was ok so the meeting ended at 9.30pm.
To see more pictures, click here.
---
Back to East Area page, click here.