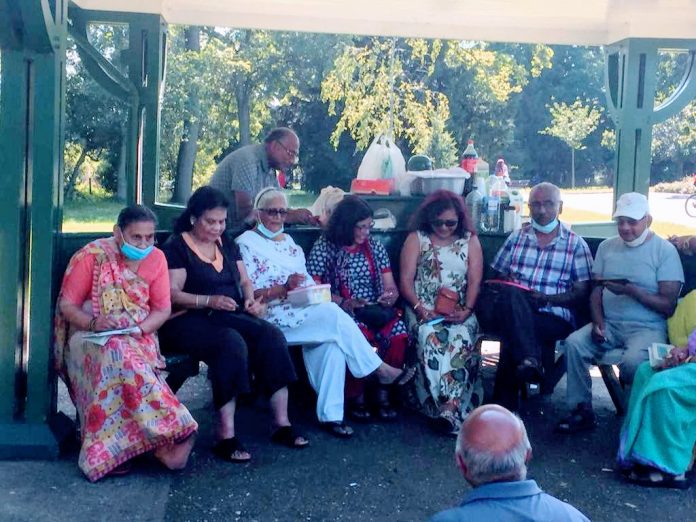 2nd PICNIC by  EAST AREA 18th July 2021, at Valentines Park.  
At the East Area monthly meeting, we decided that we should have another picnic as the weather forecast is going to be hot and sunny.   Looking at the picnic we did last one, we thought it was a good idea. Was decided that the committee will provide Maag saak, Dhebra, pickle and yoghurt. The rest are to bring a dish of their choice who are attending the picnic. Again due to govt. covid guidelines we kept restrictions on attendance to 30 (The first 30 names we will receive ) 
On 18th July it was our apology ( From Bharti and Babubhai ) as we already had another commitment.  
This information about this Picnik is provided by Ashwin and Nandlalbhai.  
The picnic started at 2.00 pm on a very hot lovely day, with an attendance of  19 members, including a guest who came to the picnic. They all met each other and talked about their family, discussing the news on current topics. Members were very pleased to see each other and I think that every area should start having such picnics in good weather.  
We have many parks and places which we can use and the venue does not cost anything. The outdoor has more fresh air and sun to give vitamin D.  
I even think Potters Bar opposite the Oshwal Centre has a beautiful park for walking and also some picnic spots are there. I am sure we have been to Oshwal Centre so many times, but have not walked in the park opposite the centre? 
Our Association should try to organise a picnic using our land at Oshwal Centre, and I am sure many volunteers will come to help to prepare our vast land at Oshwal Centre and turn some land for picnic spots. This way you will see many members come to Oshwal Centre from faraway and also bring regularly members to the centre. 
After having soft drinks and Juices, the food was served, and all enjoyed the homemade food. Dhebra and Moog are favourites on a picnic and are preferred by many and goes well with yoghurt.  We always try to cater homemade food. There were many other different varieties of dishes which was brought by other members. Everyone enjoyed the food and all were happy. 
Afterwards, they played 4 games of Bingo, and that was enjoyed by all.  
And all went home around 6.00 pm. Happy and cheerful. 
The photographs are taken by Lataben Ashwin Shah and many many thanks for making my work easy. Thank you Lataben and Ashvinbhai to give the report.  
Report by Babulal Devji Shah, East Area.