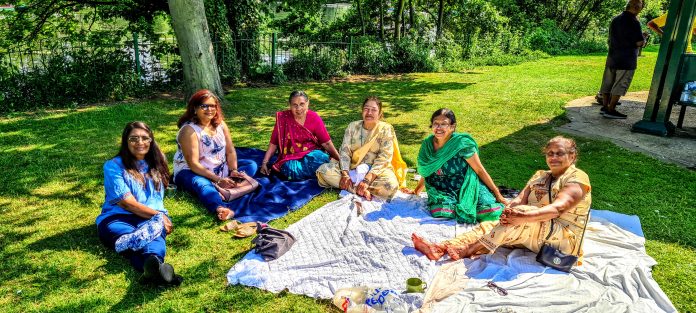 EAST AREA PICNIC SUNDAY 13th June 2021
It was decided that the weather is going to be good on the weekend and we the committee
decided that we can have a picnic with 30 members. And to observe the government guidelines.
It was an open-air venue so it was more favourable to the members.
On Sunday 13th June at 2.00 pm we had 26 members who turned up for the picnic @ The
Valentines Park in Ilford.
The committee had decided to provide Bhel and drinks and those attending could bring
whatever they liked. Bhel was prepared by the spouses of the members and different
ingredients were prepared by every member of the committee. Soft drinks and water were
provided so mostly the food was ample. Other members brought a dish and we had a variety of
healthy food for the picnic.
Everyone met each other after a very long time and gave their experience of the lockdown.
Then when everyone was gathered we started the picnic and all enjoyed the food and drinks.
After that, all had a good rest and cleared the rubbish and decided to play kho kho. Then we all
gathered and played a game of Bingo. I think everyone enjoyed the beautiful sunny weather
which everyone enjoyed. We finished around 6.00pm and all set went home.