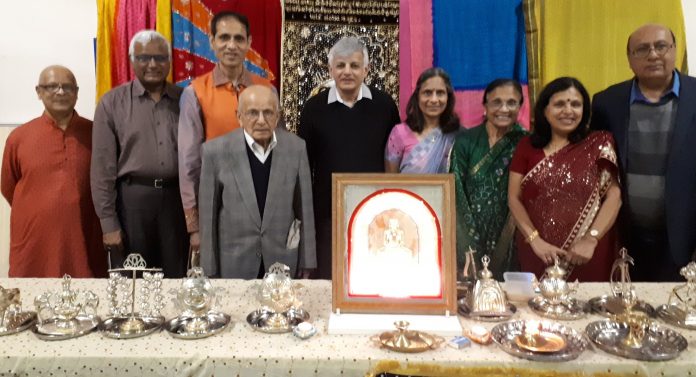 It was a great pleasure and honour to have Jayeshbhai at our residence for a shadharmik bhojan. We invited Veljibhai to accompany Jayeshbhai. After bhojan we took Jayeshbhai to the EAST AREA OAUK New Venue:
St.John's Church Centre, St. John's Road, SevenKings, Ilford, Essex, IG2 7BB
 All those who were present in the hall welcomed Jayeshbhai. A small speech, prayers and introduction was given by Kishore Bhai. (chairman). After that the satta was given to Jayeshbhai and Ashokbhai.
Jayeshbhai welcomed everyone and started the MJK programme with the life of Mahavir Swami and how he attained to be the 24th Tirthankara and his teachings to everyone. With his life Jayeshbhai asked questioned to the public, and on the whole it was his teaching to love others, first feed your guest and to take a vow to do something every day.
Jayeshbhai than performed to do the sapanas and those individual who pledged for the sapana's worshiped the sapana. After that they were taken around the hall so everyone can pray. After that the parnu julavani, aarti and mangal divo was performed.
Parnu julavanu was done by Kantibhai Meghji Shah and family.
Aarti was performed by   Late Radiyatben Velji Mulji and family
Mangal Divo performed by Late Dahiben Mulji Parivar of Vasai. ( Velji Mulji  Malde)
There was a prabhavna by the East Area Sangh, and other prabhana was from Ranmal Waghji Family, Lalitaben Amritlal Shah family, Ramesh Dharamshi Savla family, Devchand Dharamshi Savla family, Late  Santokben Devji Meghji Shah and family.
East area thanks to all those who did the prabhavna.
Lastly east area members thanks Jayeshbhai for attending and perform the ceremony, also a special thanks to Ashok Tejshi Mulji to bring Jayeshbhai to our area.
Photos for the wonderful occasion can be found here