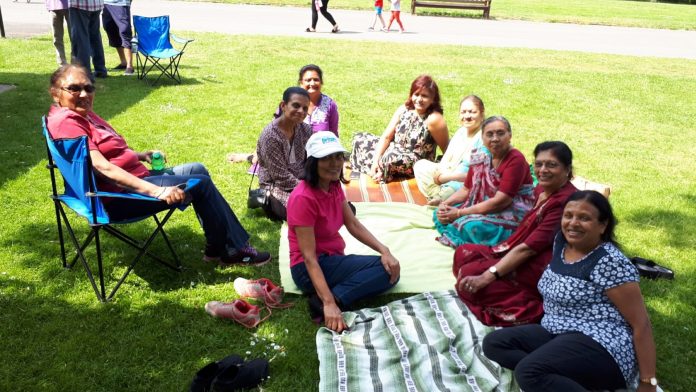 Bank Holiday Monday 28th May 2018
Having a bank holiday on Monday and weather forecast to be sunny, east members decided that we should have a picnic. As no other arrangements needed so a picnic was decided at the Valentines Park Ilford, Essex. The members of the area were informed by text,telephone, what's app and word of mouth. Sorry, we can not inform all the members but those living far away can always ring any committee members if there is anything going on in the area.
As Monday was a bank holiday we had some guests in the area and they joined in the picnic. Not only they enjoyed but met many other members of the area. We met at 1.00 pm and all mingled and talked about the world news. Then we had a lunch prepared by different families and had nice cold drinks.
We had the company of Ansuya and Jayanti from Mombasa , Ansuya remembered from her university days coming to this park while she was single.
We all gathered for a group photo. Later on, some played cards and others went for long walks. The beauty of a picnic is that you enjoy a nice weather, Variety of food and a relaxing afternoon watching the nature and the beauty of watching birds and ducks in the lake. Ended at 6pm.
To see more pictures, click here.
---
Back to East Area Page.