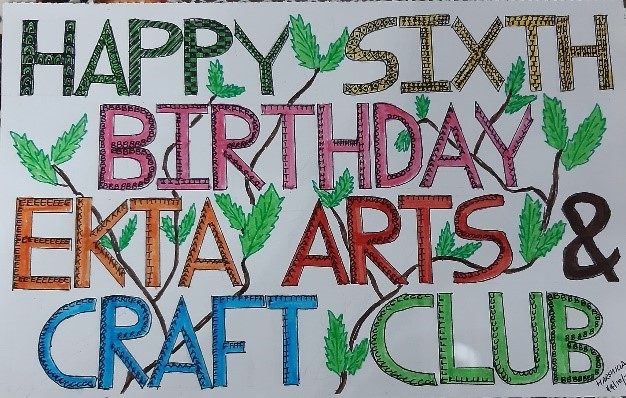 Lockdown has been one of the most unprecedented and testing time for us all. Not being able to see your families, friends, colleagues physically has been something beyond our comprehension. So many of us have had to deal with deaths, funerals, sadris, especially of immediate family members and to socially distance during these times was hard. Having big families and to restrict your nearest and dearest on these occasions have been especially difficult. Social media opened a new learning curve for us all and it is amazing how we have all adapted especially the elderly. You tube and zoom sessions which were and are still being organised by OAUK have become a life saver for so many of the elderly in our community.
Ekta Arts and Crafts club was started in October 2015.and all the club members have made it a success. The Club has restarted face to face meetings from 5th of October and it was overwhelming to meet the members.
The members comments capture the essence of what the club has meant to them through these challenging times:
"We know 2020 was hard all around the world. But Ekta art and craft was (is) very active and there was so much support on WhatsApp Group and zoom classes. All the art, gardening, chit-chat, hair cutting lessons, and generally asking if anyone wants help with shopping or just call for a chat. Everyone in the group is amazing and inspirational, with positive vibes. I know being part of the group has helped so many of us and continues to do so. – Enna Shah"
"I would like to thank Bijal and the members of the art club for inspiring and encouraging us during lockdown. Even my mother Shantaben, who is well over 90, has been kept occupied with art and craft work. We encouraged Baa to knit hair bands and do paintings in lockdown. The lockdown also inspired me do some charitable work.
Thank you best wishes Hansa and Shantabaa"
"I joined the club in March 2020, and after just two sessions we had lockdown. Having dropped art at the age of 14, I had not picked up a paint brush, until I came to Ekta and have learnt so much since. I wish to give full credit to all the members and various teachers and the generous way in which they share ideas and offer encouragement. The atmosphere is very friendly, welcoming and relaxing. – Meena Shah"
"I joined Ekta Art club in May 2019 just after my mum passed away. During lockdown, I joined some other online classes that gave me more inspiration. Having the Ekta art Whatsapp group was great, especially the positive comments on my work. In fact, this year I quit my job and decided to go back to college to do level 2 diploma in fine art. – Monica"
"Not having done any art since leaving school, I am so proud that some of my art was used for our company's annual calendar 2020. I have made so many new friends that have helped me in my art journey, from doodling to making mittens. – Bharti Shah"
"Ekta Art club has helped me in so many ways, with moral support and has been a life saver during the pandemic when the members were always looking out for each other. – Anoo Shah"
"The classes are a good therapy for all of us stuck at home – Saroj Shah"
"We were in Australia when everything started shutting down during the pandemic, where I was busy with our granddaughter Never having done art before, I was inspired by everyone's work and with encouragement from the members I started posting my work online which was different themes set each week. With modern technology you can take part in any activity from anywhere in the world. – Vina Shah"
For me personally, I was a complete novice when I joined the club. I started my art journey from doodling which I first learnt at the club. During lockdown, I did a zoom online art demonstration, which led me to doing online art classes for a group of young children. This was a completely new learning curve for me and was encouraged to learn different art techniques, which I partook to the classes.
The comments above are from just a few members but they do sum it all up. The Ekta Art and Craft club had been a great help during lockdown and continues to inspire many lives.
Since reopening, the club members are being asked to demonstrate work which they have mostly learnt themselves through online platforms. This is giving them so much confidence and encouragement to continue to learn in different art mediums
On the craft side during the first lockdown a lot of our members made fiddle mats for the dementia patients who were at the Orthopaedic hospital in Stanmore. Some were knitted and others made from fabric. Other craft activities have included making paper flowers, gift cards, birthday cards, colouring pots, and fruit carving. We have also had discussions on upcycling, reducing plastic waste and how to make the world a better place for future generations.
To view more photos Click Here