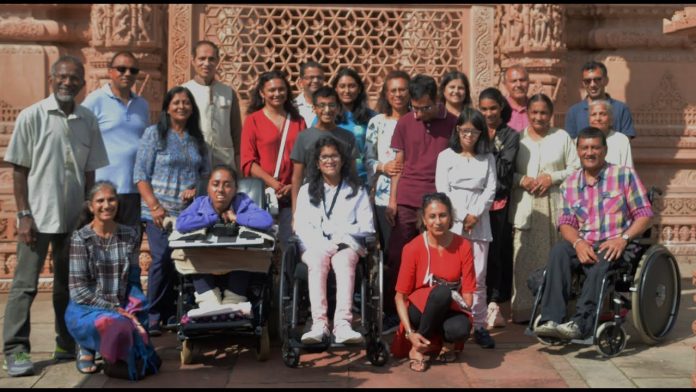 A dream was realized on the 15th of August 2021.
I wanted to go to our beautiful Derasar at Oshwal Centre for Darshan, but I didn't want to go alone. I wanted my friends from Enabling Network, who, like me, have a disability and some of whom are wheelchair users, to join me, together with their parents and families.
There were practical details to put into place and these were fulfilled with help from Pujya Shree Jayeshbhai, Tusharbhai and the EN Team who contacted members of Enabling Network.
We all arrived at Oshwal Centre by midday and had our picnic in the dining room and on the patio of Oshwal House. All the families brought food that we shared.
Around 1.30 pm, we proceeded towards the Derasar and Nando, our Centre caretaker, very kindly helped all the wheelchair users into the lift and inside the Derasar. We were warmly welcomed by Varshaben and Pujya Shree Jayeshbhai who conducted the Samu Darshan, Chaityavandan followed by Aarti and Mangal Divo.
We were helped down in the lift and visited all the 24 Bhagwan ni Deris for Darshan where Pujya Shree Jayeshbhai shared brief historical facts about each of our Thirthankars. We then proceeded towards the Hand of Ahimsa, where we celebrated India's Independence Day by waving flags. To mark our Jatra, Pujya Shree Jayeshbhai tied Raksha Potli on everyone's hands. There were 20 of us and later, worshippers who had come to do Darshan also joined us.
The weather was warm, the sun was shining all through the afternoon, everybody really enjoyed themselves and we are so grateful to Pujya Shree Jayeshbhai for spending the whole afternoon with us. Vimalbhai also very kindly captured our memorable day by taking lots of photos and videos.
Hopefully this Jatra will inspire members of our community with a disability to visit the Derasar in future. I am happy to help plan a trip if a group can be formed. You can contact me through Enabling Network, Pujya Shree Jayeshbhai or our office at Oshwal Centre.
By: Jatin Shah
To View more Photos from this trip – Click here
To View the video – Click Here