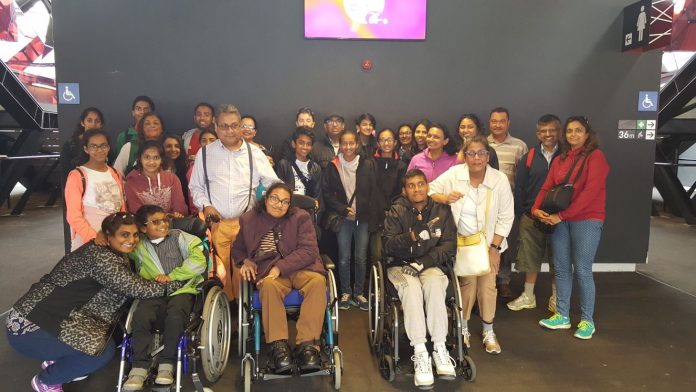 Enabling Network Members attend  Para Athletics 2017 at Olympic Park, London
EN organised low cost tickets for ESSC participants to attend Para Athletics 2017, and what a treat that was!  About 30 of us took the train to Stratford on 22 July 2017 to view competitive athletic events such as long and short distance running, high jump, long jump, discuss, javelin and shot-put all performed by athletes with disabilities.  Amongst these some were final events.
Arriving at Stratford train station one can quickly get disorientated as to where the Olympic Park is but nobody should worry as they are volunteers to help direct you to the Westfield Mall itself and onward to the grand stadium complex.  There is even a minibus that can transfer people who have physical disabilities and / or are in wheelchairs to the park from the station.
Westfield shopping mall is the largest in Europe and it has everything but this was a venture to the Queen Elizabeth Park and grand stadium for a Saturday morning session of World Para Athletics championships.
So much to do and see, we found the whole experience organised, relaxed, safe and security conscience (but not intrusive).
Excellent, clean facilities at the stadium, very well organised and this event which is a credit to humanity was a fantastic experience, an experience enhanced due to the array of volunteers and staff that make these events practical and enjoyable for everyone.
Para Athletics- incredible dedication and a true inspiration, fantastic atmosphere, brilliant… Needless to say it was exactly the event that inspired our members to overcome their own disabilities and excel.
Click HERE to view more photos.