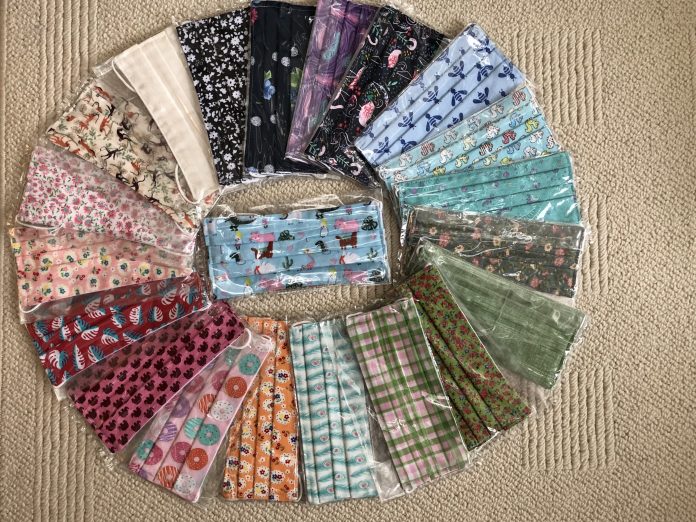 North area Secretary Bansari Shah has become a lot busier recently. She had to dust off and get re-acquainted with her sewing machine after sister-in-law Ruth got her inspired to take on a new challenge!
Ruth started making face masks for the NHS and a care home in Cambridge and this triggered Bansari to take out the sewing machine which her sasu (mother in law) had given her. Initially using fabric and sewing materials she started to make masks for her family. Then friends questioned her as to why she didn't make and sell them. But Bansari decided to further this challenge and raise funds for charity and chose to help Parkinson's UK and to increase awareness about the disease and the UK charity.
Parkinson's is a progressive neurological condition. This means that it causes problems in the brain and gets worse over time. Around 145,000 people live with Parkinson's in the UK. And it's the fastest growing neurological condition in the world.
Bansari sources fabrics from various British suppliers paying attention to quality and design. Her masks are all double layered cotton, washable, breathable and environmentally friendly. Each mask takes her about one hour to create. They are pre-shrunk by washing the fabrics first.
Her daughters Serena and Puja have helped her with marketing, and she has a large following now on Instagram. Over the last few months, she has made hundreds of masks, and raised over £1200 for Parkinson's UK.
Orders have been flooding in from across the UK and Europe, and she even had an enquiry from a Denmark with a business proposal! But she decided to keep this an entirely philanthropic venture and recently she has started selling masks to support two other Charities. Husband and North Area Treasurer Nylesh's employer supports two charities – Shelter and ChildLine. So Bansari is selling masks via Nylesh's colleagues to support those two charities. However the orders she receives from elsewhere and via her online marketing are solely to raise funds for Parkinson's UK.
To get more information or support go to the website www.parkinsons.org.uk/ or call their help line 0808 800 0303.