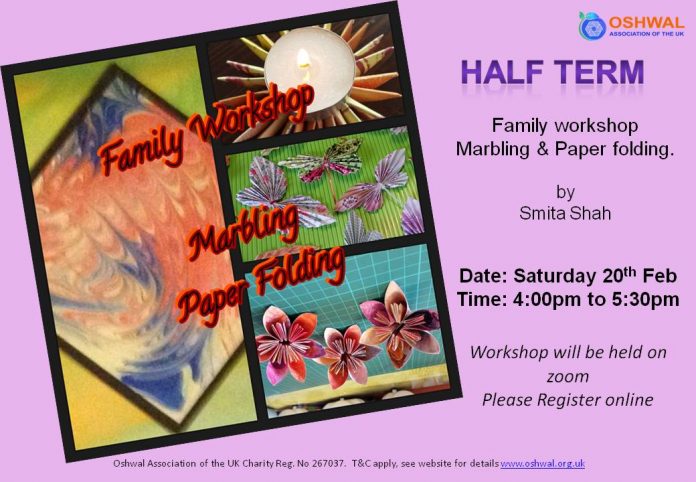 Half Term fun filled Family Creative Workshop by
Smita Shah
I'd like to take this opportunity to tell you about my journey in art.  I have always been interested in arts and crafts from a very young age.  My mum taught me how to embroider saris, so every holiday I would sit and embroider one. My sisters taught me how to knit, crochet and making collage pictures by recycling materials found out and around.
I am not good at drawing, so I settled for working with my hands.  In well over 30 years I have been making greeting cards at home. I am a qualified teacher of One-Stroke Painting Tutor.
This technique appealed to me as it is almost freehand and with the use of clever blending of paints in the brush, you can paint a petal with shades in just one stroke of the brush without lifting the brush.
I have taught children crafts in the comfort of my extremely messy studio, where they have created many beautiful things. The emphasis is more on process and technique that can be used in other projects also. I allow the children freedom to be creative and express themselves with the materials provided.
List of material you will need to take active part.
MARBLING
MATERIALS
Shaving Foam
Thick Card to decorate
Plastic Sheet
Skewer or Cocktail Sticks
Acrylic Paints (Bottled)
Kitchen Towels
Plastic Sheet
Squeegee (windscreen cleaner) or and old credit card
PAPER FOLDING
MATERIALS
Flowers           – Coloured/Printed Paper cut into squares – 4"
Candle holder  – White or coloured paper cut into rectangles 2" by 3".
Butterflies      – Decorative paper and plastic ties for cables
To download the above list click –> Family Workshop Resources List by Smita Shah
Registration is now closed for this event
After registering, you will receive a confirmation email containing information about joining the workshop on zoom.