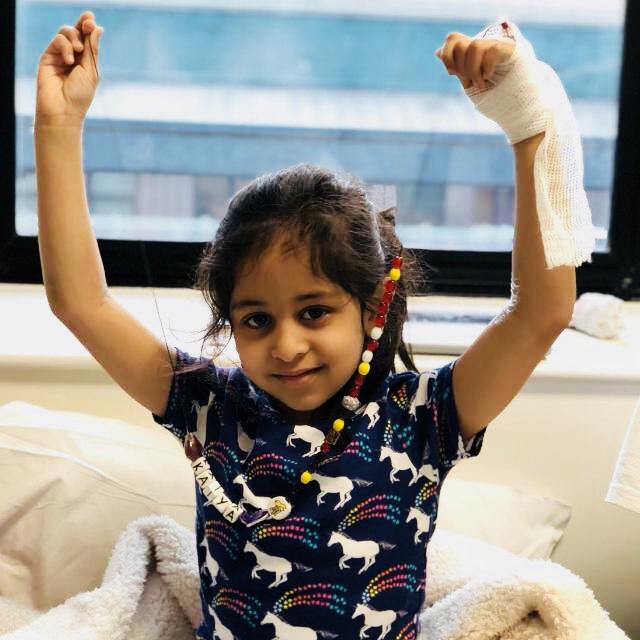 The following is a appeal highlighted by a Member, which we encourage all to consider and support. The details are self-explanatory.
---
Our 5 year-old Kaiya (my niece) has a rare and aggressive form of leukaemia.
She needs a stem cell transplant in around 2 months time. There are certain services listed below who will check whether you could be a lifesaving match for Kaiya. We are after anyone who is willing to help us but those with Indian origin would provide an even better chance so the more that register for us the higher the probability there is of finding her a match. Her parents, her sister and my daughter were all tested but they were unfortunately not a match. Our family have already registered and waiting on results but we need more people to get involved to give Kaiya a better chance in the timeframe we have. I have attached some photos of our Kaiya, one holding her beads of courage to fight cancer. She has had 5 weeks of chemo and still fighting strong with good results but the next challenge is finding a stem cell donor.
There are 3 places that you can go to check if you are able to help us (Anthony Nolan would be the first choice but has an age restriction up to 30 years old):
1. Anthony Nolan
If you are between 16 & 30 years old – requires a simple blood test and is the best way to know if you are a match, click here, or Tel: 0303 303 0303.
2. NHS
If you are between 17 & 40 years old – requires a simple blood test at any NHS Blood donor centre but you must tell them you wish to join the British Bone Marrow Registry (BBMR) and is a quick way to know if you are a match, click here or Tel: 0300 123 23 23.
3. DKMS
If you are between 17 & 55 years old – requires a cheek swab test which you can order from the link below today but is the slowest way (up to 4 weeks for basic results) to know if you are a match and then you would be called in for a blood test, click here, or Tel: 020 8747 5620
Additionally, local community centres have been set-up where people can walk in for pain free swab test to see if they are able to be a stem cell donor. Details as follows:
Dhamecha Lohana Centre, Brember Road, South Harrow – TOMORROW 18 May 2018 from 6.30pm – 10.30pm.
Carter Chemist & Ability, 112-114 High Street, Northwood, Middlesex. HA6 1BJ, Monday 21 May to Friday 25 May from 9am – 7pm daily. Tel: 01923 825 753.
Chalfont Court Care Home, Rickmansworth, Uxbridge Road, Rickmansworth, WD3 7AR, Wednesday 23rd May between 10am and 8pm. Tel: 01923 624 154.
The family truly appreciate your swiftness in contacting any of the above and your generosity to help us save our 5 year-old Kaiya.
Thank you all!!
Nick Desai (Tel: 07770 220 809)
---
Back to homepage.