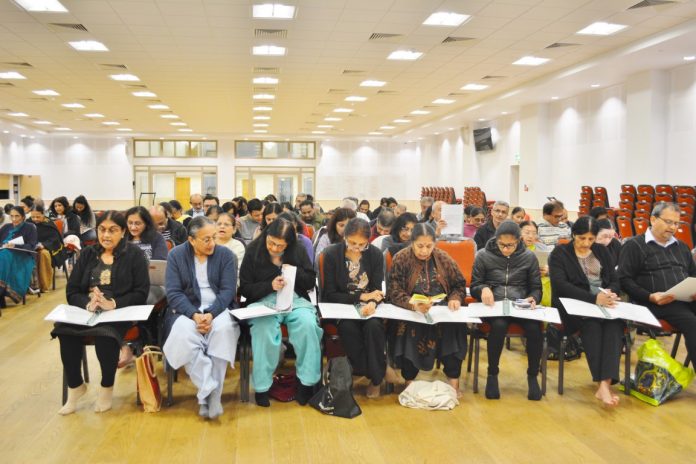 MONDAY 13TH MARCH 2017 – OSHWAL CENTRE – 2ND JAIN PATHSHALA CLASS EXPLORES DIFFERENT SUTRAS.
This evening 8.30pm to 10pm we saw our 2nd Jain Pathshala class at Oshwal Centre as we knew more people will be coming. The class was taught by Jayeshbhai Shah in Gujarati with English written translation.
Panchindiya Sutra
This sutra praises one's own spiritual teacher.
Panchindiya samvarno – five senses (touch, hear, smell, sight and taste)
Tah nav vih bambhcher gutti sharo – nine limitations of celibacy
Chau viha kashay mukko – four kashayas – anger, greed, deceit and pride
Iha attharas gunehi sanjutto – making up the 18 Gunas
Pancha mahavaya jutto – five vows
Pancha vihayar palan sammatho – five ways of good conduct
Pancha samio, Ti gutto – five restrictions when walking, speaking eating
Chhattis gunno guru majhjhah  – such is My guru who possess all these 36 Gunas.
Khamasamana Sutra
Object of this sutra is to pay respect to Bhagwan and the spiritual Guru. As this sutra is said whilst one bows down touching five body parts ie the head, both hands, and knees to the ground it is also called Panchanga Pranipata Sutra
Ichchhami khama-samano
Vandium javanijjae Nisihiae
Matthaena vandami
Oh spiritual master, to the best of my ability, discarding all sinful activities and with my head bowed down, I want to pay my respect to you.
Ichchhakara Suha Rai (Sukh Shata Pruchha) Sutra
With this Sutra we enquire about the welfare of the spiritual master(Guru) during his journey on the path of righteousness. Also offering alms to the Guru
Ichchhakara!
Suha rai? Suha-devasi? (say suha rai until noon and suha-devasi in the afternoon.) Both words must not be used at the same time)
Sukha tapa? Sharira niräbädha?
Sukha sanjama jatra nirvaho chho ji?
Swami! shata chhe ji?
Bhat pani no labha dejo ji
Oh Master, I hope and wish you were comfortable during night and day and while performing austerity, keeping in good health and following the path of righteousness. Swami are you feeling well physically, mentally and physically? Please do me the favour of accepting alms from me.
The prayer to be recited when taking three Pradikshinas (Circumbulations) of the Parmatama.
KALA ANADI ANANT THI BHAV BRAMANA NO NAHI PAR
TE BRAMANA NIVARVA PRADIKSHINA DAU TRAN VAR
BHAMATI MA BHAMTA THAKA, BHAV BHAVATH DUR PALAY
DARSHAN GYAN CHARITRA RUP PRADIKSHNA TRAN DEVAY
JANMA MARANADI BHAY TALE, SIJJE JO DARSHAN KAJ
RATNATRAYI PRAPTI BHANI, DARSHAN KARO JINRAJ
GYAN VADUN SANSARMA, GYAN PARAM SUKH HETA
GYAN VINA JAG JIVDA, NA LAHA TATVA SANKET
CHAY TE SANCHAY KARMA NO, RIKTA KARE VADI JEHA
CHARITRA NAM NIRYUKTE KAHYUN, VANDO TE GUNA GEHA
DARSHAN GYAN CHARITRA AE RATNATRAYI NIRDHAR
TRAN PRADAKSHINA TE KARANE, BHAVDUKH BHANJANHAR
Meaning: Since time immemorial, I have been taking many bhavs. To try and avoid that continuous cycle of taking bhavs, I am taking three pradakshinas. The three pradakshinas represent Darshan, Gyan and Charitra and the practice of the three in life will take us towards the path of avoiding the cycle of life and death and taking so may bhavs.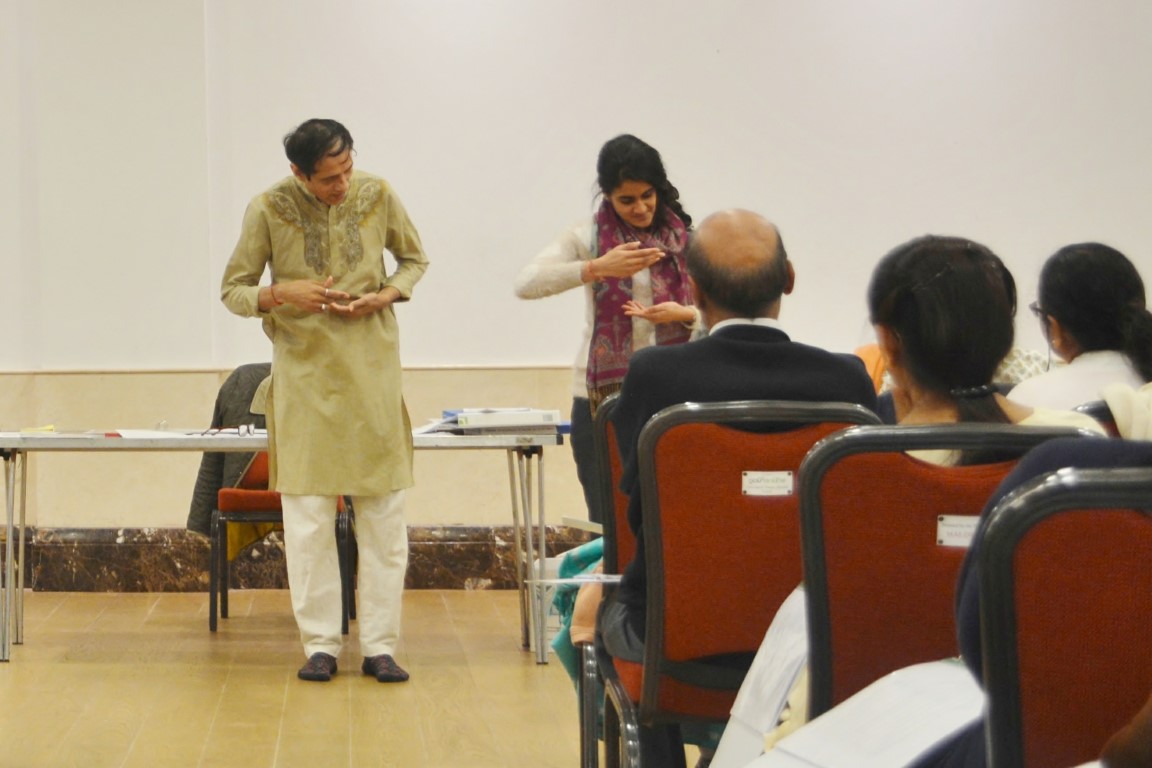 We had 100 people come to the class and these were of mixed ages. We have asked everyone to car share and bring more people. The more people benefit from these classes the better.
If you think you have missed something please come and join us.
For further information please contact Varshaben via email varsha.shah@oshwal.org or phone on 07710 230 377.
To see more pictures from Jain Pathshala classes, click here.
---
Back to Religion page.