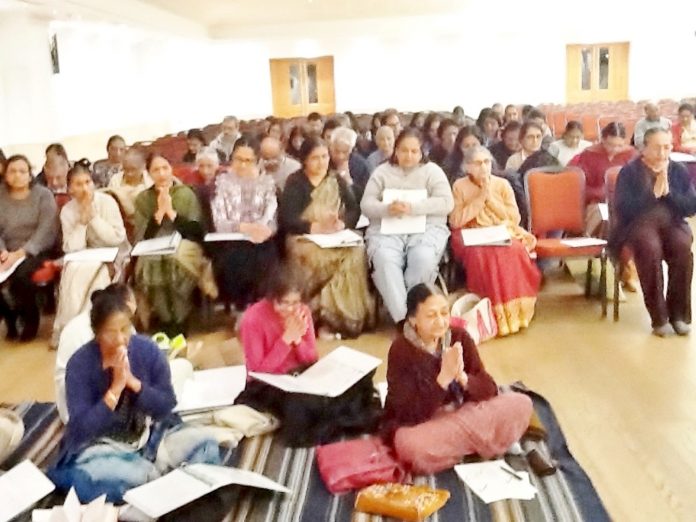 MONDAY 20TH MARCH 2017 – OSHWAL CENTRE – JAIN PATHSHALA
This evening 8.30pm to 10.00pm we saw our 3rd Jain Pathshala class at Oshwal Centre as we knew more people will be coming. The class was taught by Jayeshbhai Shah in Gujarati with English written translation. Jayeshbhai recapped over the last two sessions then we went further.
ABBHUTTHIO SUTRA (GURUKHAMANA SUTRA)
We ask forgiveness from the spiritual master for any disrespect shown to the Guru.
Ichchhakarena Sandisaha Bhagavan!
Abbhutthiomi, Abbhintara
Raiam (Devasiam) Khameum?
Ichchham,
Khamemi Raiam (Devasiam)
Bhagwan, give me permission willingly! I have come forward to seek forgiveness for the sins I may have committed on this night (raiam for morning) or day (devsiam for evening). (Here the master (guru) willingly gives permission.) As per the permission, I seek forgiveness for the sins I may have committed on this day.
Jamkinchi Apattiam
Para-Pattiam
Bhatte Pane
Vinae, Veyavachche,
Alave, Samlave,
Uchchasane, Samasane,
Antarabhasae, Uvaribhasae.
I seek forgiveness for whatever unfriendly or excessively unfriendly acts I may have committed this day in regard to eating and drinking, in regard to respect and sewa, in regard to speech and conversation, in regard to seating myself at a higher or at the same level as you, or in interrupting you when you are speaking or speaking excessively
Jamkinchi Majjha Vinaya-Parihinam,
Suhumam va Bayaram va
Tubbhe Janaha, Aham na Janami,
Tassa Michchhami Dukkadam.
Whatever little or great disrespect I may have shown, which you know but I am not aware, may those wrongful deeds be forgiven and become fruitless.
IRIYAVAHIYAM SUTRA (PRATIKRAMAN SUTRA)
This is a daily pratikraman sutra and we ask for forgiveness for the harm caused to all living beings while moving around.
Ichchhakarena Sandisaha Bhagavan!
Iriyavahiyam Padikkamami?
Ichchham, Ichchhami Padikkamium.
Iriyavahiyae, Virahanae.
Bhagwan grant me your permission willingly. I want to repent for any injury I may have caused in the course of my movements, and permission is granted by Guru
Gamanagamane.
Pana-kkamane, Biya-kkamane,
Hariya-kkamane, Osa-uttinga,
Panaga-daga, Matti-makkada-santana-sankamane.
In coming and going, in treading on small living beings, in treading on live seeds, in treading on green plants, in treading on dew (osa), on beetles (uttinga), on mold (panaga), on moist earth contains water bodies (apa-kayas) and earth bodies (prithvikayas), and on cobwebs.
Je me Jiva Virahiya.
Egindiya, Beindiya, Teindiya, Chaurindiya, Panchindiya.
Whatever living organisms with one or two or three or four or five senses
Abhihaya, Vattiya,
Lesiya, Sanghaiya, Sanghattiya,
Pariyaviya, Kilamiya,
Uddaviya, Thanao Thanam,
Sankamiya, Jiviyao Vavaroviya,
Tassa Michchhami Dukkadam.
Have been injured by me or knocked over or crushed or squashed or covered by dust or touched or mangled or hurt or severely distressed or moved from one place to another or deprived of life. May all that evil done by me be forgiven and become fruitless.
We had over a 100 people come to the class and these were of mixed ages. We have asked everyone to car share and bring more people. The more people benefit from these classes the better.
If you think you have missed something please come and join us. For further information please contact Varshaben via email varsha.shah@oshwal.org or phone on 07710 230 377.
---
Back to Religion page.