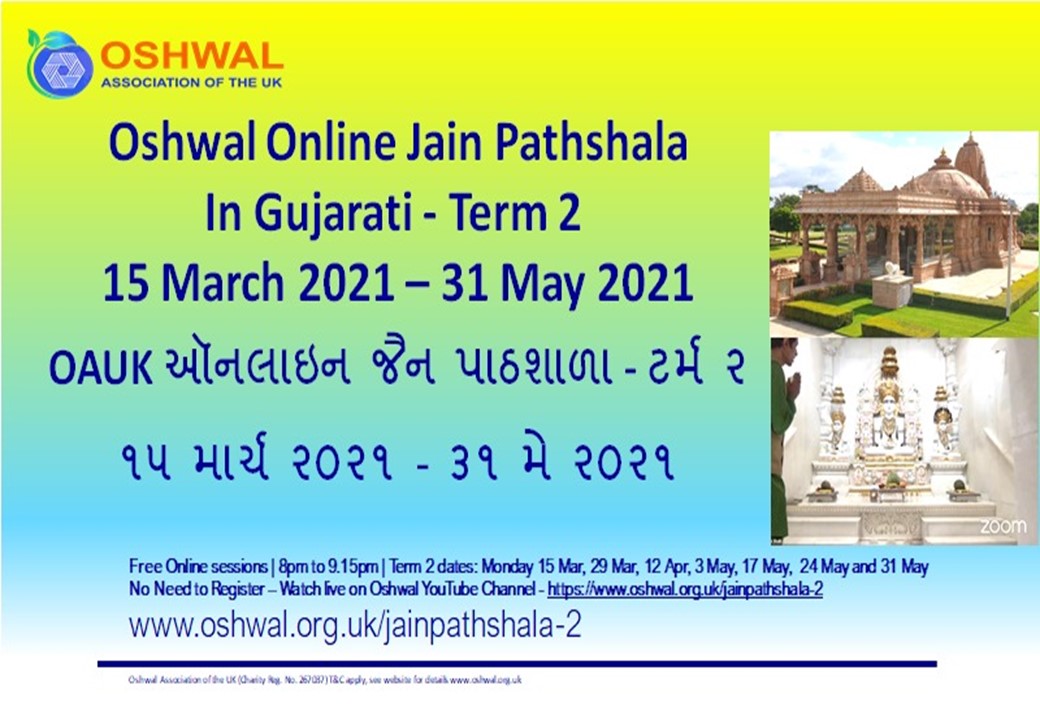 OAUK Online Jain Pathshala Term 2 sessions will commence on
Monday, 15th March, 2021 – Time: 8.00-9.15pm
A course of seven sessions on 15th & 29th March , 12th April , 3rd, 17th, 24th &  31st May.
A great opportunity to learn about the importance of one of our essential duties – Samayik.
Pujya Shri Jayeshbhai will explain about the importance, rituals, meanings and pronunciation of Sutras and benefits of Samayik and how to perform Karyotsarg/Kaussagga accompanied with Bhakti and an opportunity to participate in Question and Answer sessions.
OAUK ઑનલાઇન જૈન પાઠશાળા ટર્મ ૨ના વર્ગોની શરૂઆત થશે –
સોમવાર, ૧૫ માર્ચ ૨૦૨૧ – સમય: રાત્રે ૮.૦૦ – ૯.૧૫ વાગ્યે
૭ વર્ગનો અભ્યાસક્રમ – ૧૫ અને ૨૯ માર્ચ, ૧૨ એપ્રિલ, ૩, ૧૭, ૨૪ અને ૩૧ મે ૨૦૨૧.
આપણાં આવશ્યક કર્તવ્યોમાંનું એક મહત્ત્વનું કર્તવ્ય – સામાયિક વિશે શીખવાની એક અનેરી તક.
પૂજ્ય શ્રી જયેશભાઈ શાહ સામાયિકની મહત્ત્વતા, ક્રિયા, સૂત્રો ઉચ્ચારણ, તેનાથી થતા લાભ તથા કાર્યોત્સર્ગ/કાઉસ્સગ્ગ વિશે સમજણ આપશે તથા ભક્તિ અને પ્રશ્નોના જવાબ મેળવવાની તક મળશે.
No Need to Register – Join us Live on Oshwal YouTube Channel
To download Class Material Click Here