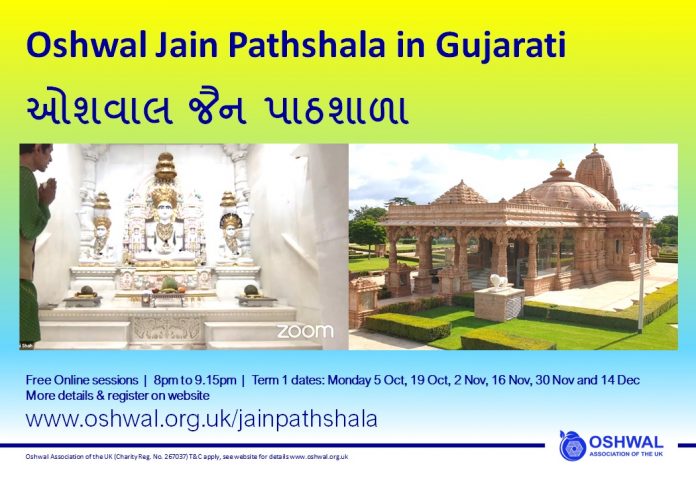 Monday evenings 8pm to 9.15pm
Term 1 dates: 5 Oct, 19 Oct, 2 Nov, 16 Nov, 30 Nov and 14 Dec
These sessions will be conducted in Gujarati by our Vidhikar, Jayeshbhai.
These interactive sessions will be run using Zoom software. This will allow you to ask questions and take part on audience polls and other interactive features. You can attend one or all three sessions with only one registration. To receive joining details please register below.
Note: if you provide your mobile number you can join the Pathsalal WhatsApp group to receive updates about the class material.
FAQs
Some helpful information (FAQ) on using the Zoom We recommend everyone read this carefully as it helps with most of the problems you may have:
1) Permissions: When you install the app, you will be asked for permissions for the audio/microphone and the camera which you have to accept. This is so that you can take part and comment or ask question. If you don't accept the request/permissions then you should still be able to hear what is happening, but won't be able to say anything.
2) Name: Please enter your real name when joining the Zoom meeting, so Pujya Shri Jayeshbhai knows who you are if he speaks to you. You can rename yourself even after joining the Zoom meeting.
3) No Sound/Audio: When you start the Zoom meeting, you need to press the "Join Audio" or "Call using Internet Audio" button on the screen. You may need to leave the the meeting and rejoin to do this.
4) Video: Please turn your video off and keep it off, unless asked to turn it on by us.
5) Can't hear or sound breaking up: If you can't hear us and you have already tried pressing the "Join Audio" or "Call using Internet Audio" button, then you may be having network/wifi problems. Try sitting in a different part of your home to get better network/wifi signal. If that doesn't help then try leaving and joining the Zoom meeting again.
6) Buttons: You can hide the various buttons at the bottom of the screen by tapping the middle of the screen. Repeat to bring the buttons back.
7) Noise: Make sure that you are in a quiet place when taking part. If there is noise in the background, like from a TV or other people chatting, then you won't hear us properly.
8) Chat: If you want to say something then you can type a message in the chat box feature of Zoom. When using the chat box next to the "To:" change it to his name before sending a message, otherwise he will not see your message.
9) Raise Hand: Another way to say something to is to press the "Raise Hand" button (if you can't see the button then press the "more" or 3 dot or "participants" button first). Please press the "Lower your hand" button if you no longer wish to speak.
10) Unmuting: If you are asked to speak then you will see a message asking if you want to unmute yourself. You must press the "Unmute myself" or "Unmute now" button first that will appear on the screen, only then you will be able to speak.
11) Data: Zoom can use a lot of data so make sure you are on WiFi, or have enough of mobile data available.
12) Leaving the meeting: When the class has finished, you can press the "Leave" button to disconnect from the Zoom meeting.