EAST AREA DONATION TO THE WANDERERS HAVEN ANIMAL SANCTUARY: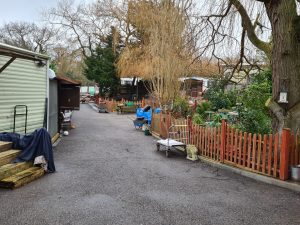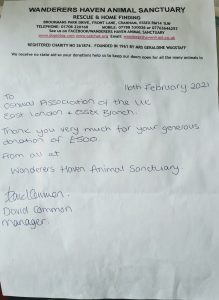 Wanderers Haven Animal Sanctuary is a place where they rescue animals and also find
home for the stray dogs or cats.  They will rescue cats, dogs, and many other animals
which have lost their home and are loitering on the streets. Truly we as a human being
would not know if we see a cat or dog on the street is a pet or homeless.
If someone rings the Wanderers Haven that they have found a dog or cat which does
not belong to them and is repeatedly coming to them, then Wanderers Haven Animal Sanctuary will come and pick them up and will look after the animal. Also a lot of them come across accidents and this is where they are the first to come in rescue and to take care.
On Tuesday 16th Feb 2021,  "Vasant Panchmi" day East Area donated £ 500.00 to this sanctuary and they were very pleased to receive our donation, and also were very thankful for this kind gesture from the Oshwal Association.
Due to the lockdown we could not take any other committee members and it was
Bhartiben and me who went to present the cheque.
We have also presented a cheque for £250 to Redbridge Food Bank. This organisation
gives food and any other needs to homeless and poor families. They are doing a great
job and our donation will be used whenever they are in need to buy anything. The
cheque was presented by Kishorebhai and Ashvinbhai.
Report by Babulal Devji Shah