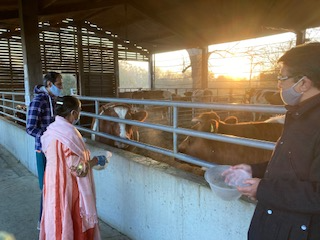 Jiv Daya

On Sunday 6th December, Jayeshbhai, Manubhai and myself visited the New Gokul Farm based at  the ISKCON Bhaktivendata Manor – Hare Krishna Temple in Watford.
OAUK donated a cheque for the amount of £1001.25. This money was generated from the Jiv Daya fund. We got a chance to feed the cows and we were shown all the facilities they look after 50 cows, bulls and calves.
About Bhaktivedanta and the Gokul Farm:
The Bhaktivedanta Manor was established in 1973 by his Divine Grace A.C. Bhaktivedanta Swami Prabupuda.
In the farm they have modern cow facilities and acres of pastureland for the herd and organic agricultural farming where vegetables are grown throughout the year.
The New Gokul Farm wants to produce Ethical alternatives to agricultural and dietary practices that support and depend on meat  and diary products by slaughtering innocent animals like cows. The New Gokul Farm presents the philosophy and implementation of compassionate cow protection which is universal, non-secretarian and welcomes everyone regardless of race, creed and nationality.
Varshaben Dilipbhai Shah
Religious Chairperson of OAUK
Photos of our visit to Gokul Farm