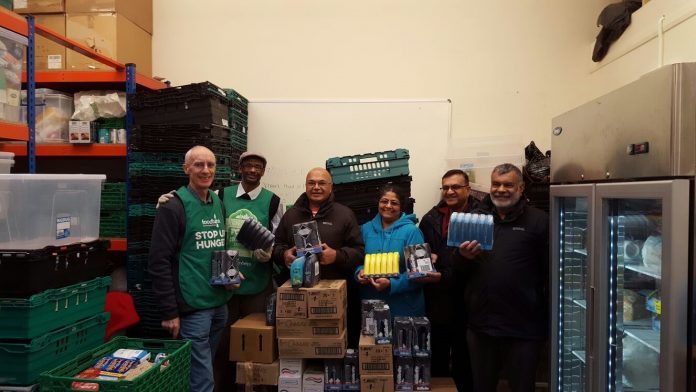 As part of our ongoing contribution towards local giving from Jivdaya Anukampa, we have supported a few local charities this year. Further donations will be given to national and international charities.
On 9th February and 10th March, we donated essentials and food items to The Trussell Trust. Vice-chairperson – Vinodkumar, committee member – Harshidaban and Ekta volunteers – Rameshbhai and Yashubhai went to deliver these items to a couple of the food banks. A few years back, we had collected a few funds towards the food bank and had set aside an amount to be given to the local food banks within Harrow and Brent.
The Trussell Trust partners with local communities to help stop UK hunger. Thirteen million people live below the poverty line in the UK, with individuals going hungry every day for a range of reasons. The Trussell Trust's 400-strong network of foodbanks provides a minimum of three days' emergency food and support to people experiencing crisis in the UK. The food banks offer more than just food, everyday essentials are also given.  Apart from that, advice on ways to save money is also available.  They also give basic cookery, nutrition and budget management courses, helping people to eat healthily when on a low budget and many more services.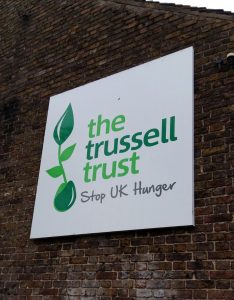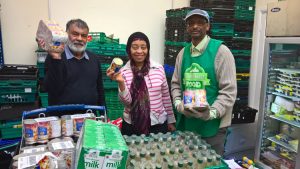 On the 1st April, we were joined by the Chair of Governors, Councillor Sandra Kabir and associate Governor, Russell Davey from The Village School, on Stag Lane, at the Elderly Monthly Meet (EMM).
The Village School caters for over 270 special needs children from the age of 3 to 19.  They cater for a wide range of complex needs; all levels of learning, communication, ASD, physical, medical and sensory impairment. There are more than 200 highly trained and experienced staff at The Village School, including teachers, teaching assistants, personal care staff, lunchtime supervisors, therapists, administration and technical staff, site management and family workers.
There is an extensive and comprehensive training programme in place for all our community, including parents and other schools and organisations. They provide an exciting curriculum with an emphasis on developing communication skills and independence, a focus on the Arts, physical development and enrichment opportunities, including practise and preparation for adult life. This provides excellent opportunities for the pupils to be included and contribute to the wider community.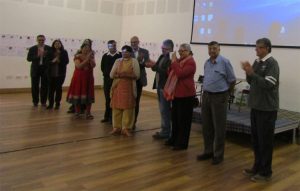 We presented them with a donation towards the good cause of working with a diversity of special needs children within the local community. Our president – Tusharbhai and trustee – Ashokbhai were present alongside various North West committee members, volunteers and our regular EMM attendees. We showed our members a short video tour of the school before presenting the donation to Councillor Sandra Kabir. They later joined us for lunch, which they thoroughly enjoyed and greatly appreciated the dedication and hard work of all the volunteers in making the delicious meal. They are also very pleased with what OAUK, as a community, has achieved and how we have engaged with the local community and the variety of events we host at Ekta Centre.
On 7th April, trustee – Ashokbhai, committee member – Jayantibhai and Ekta volunteer – Bhikubhai went to St. Luke's Hospice Harrow & Brent. There, they enjoyed their hospitality at a luncheon organised by the Hospice. We presented the Hospice with a donation for their contribution to the local community. Lord Popat was also present as the luncheon and has offered to match any midnight walk donations raised by ladies from organisations present at the lunch. Many of our families have been helped by the Hospice, and in order to help them, this year we have created a team – TEAM OAUK – to enter the Midnight walk on the 30th June 2017. Please join in to raise double the funds for the Hospice this year. When you register please enter the following details on the registration: Team – TEAM OAUK, Team Leader – HINA SHAH.
Please enter these details as it will help St Luke's to identify the total collected by ladies from OAUK and thus give them the matching donation from Lord Popat. You can register here.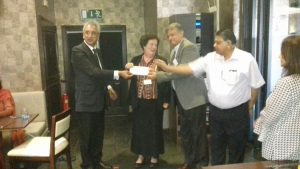 St Luke's Hospice looks after people in Harrow and Brent whose illnesses are no longer curable. They help and empower them to enjoy the best possible quality of life, knowing their family and carers are supported too. They aim to care for and support people in the place of their choice, whether it is in their own homes, supported by our Hospice at Home and Community Teams, in the Woodgrange Day Centre, or in the In-Patient Unit.
The Hospice works in partnership with, and provide education and support to GPs, community teams, nursing homes, and other healthcare professionals to ensure the highest levels of care for patients, whatever the setting.
For further photos please follow the link.