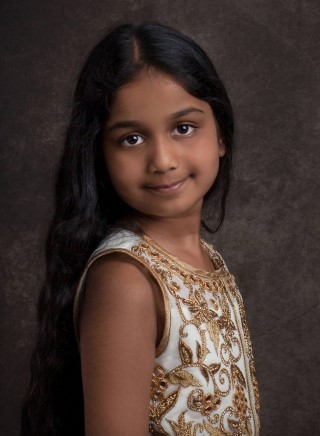 Finalist in Virgin Radio's 500 Word competition
With almost 6,000 entrants, 10 year old Oshwal Lani Haria's 500 word short story made it to the finals and was read out live on Chris Evan's breakfast show on Virgin Radio on Wednesday 15th July.
Lani' story is entitled "Martin Luther King Had A Dream". Based on a fictional chance meeting with the American civil rights activist Dr Martin Luther King, Lani whisks him off to the future where they both meet with a surprise. Lani poignantly narrates the predicament of black people in the 2020's and highlights the work still to be done to overcome prejudice and racism in our society.
The 500 Words writing competition launched a Black Lives Matter special edition last month. The Virgin Radio Breakfast Show host teamed up with CBBC presenters Angellica Bell and Michael Underwood to launch the competition in June, and enlisted some A-list stars to help them announce the winners.
Inspired by current events, the competition set out to engage young people from the age of five to 13, of all ethnicities and backgrounds, to build on the conversation around Black Lives Matter.
Eight finalists were showcased on air throughout the week, with celebrities including David Tennant, Sanjeev Bhaskar and Shobna Gulati doing readings of the submissions.
For Lani's story, actress Shobna Gulati (best known for playing Anita in Victoria Wood's Dinnerladies) was the on air reader with a wonderful presentation (see below how you can hear it).
The competition was tough, with entries from children all over the UK being whittled down to eight finalists chosen by a judging panel including Malorie Blackman OBE, Charlie Higson, Francesca Simon and Frank Cottrell-Boyce. Malorie Blackman OBE said: 'The standard and quality of the stories we received was awe-inspiring. They were poignant, moving and some were extremely heartfelt. My congratulations to all the finalists.'
Lani's parents Preena and Pareen were overwhelmed by her success in the competition and they hope this opportunity gives Lani the confidence to both keep on writing and follow her dreams. They couldn't be prouder of her achievement and are glad the story had a positive impact to so many people.
Lani was drawn to the competition because she was upset to see the injustices faced by Black People. Writing the story was a labour of love and Lani wanted to make sure that what she wrote made a difference. Preena mentioned that it took much frustration, some tears and three drafts before Lani was satisfied that she wanted to submit her story. Even though Lani didn't win, she has greatly enjoyed reading the other finalist stories and is hoping that they stir people's hearts to stand together for all black lives. Lani would really like to meet someone who could build her a time machine so that she could bring Martin Luther King to see the future!
You can read all eight of the 500 Words: Black Lives Matter finalist stories here, or listen to the celebrity readings on Amazon Alexa by saying: 'Alexa, read me a 500 Words story'.
You can read Lani's story below.
Martin Luther King Had A Dream by Lani Haria
Martin Luther King once said: I have a dream that my four little children will one day live in a nation where they will not be judged by the colour of their skin, but by the content of their character. I have a dream today.
I was there in the throng of the crowd as he spoke. The sound of freedom – it was exhilarating! The very same evening, I met with Martin. I didn't know how to tell him about my project. Instead, I said, "If I tell you, you won't believe me. Let me show you, it will all make sense." He was intrigued and followed me to the basement of my home. Dust mites swirled as I pulled down the curtain and showed him my creation, my time machine. I asked if he wanted to go to the future to see if his dream would come true. My heart was thumping in my chest louder than a hammer. Would he believe me or think i'm mad? He looked at me with star like eyes and whispered, "Yes, I want to see if my dream can be real."
I grabbed his arm and pulled him into the time machine before he could change his mind. "When shall we go?" he asked. "Six generations into the future," I replied. With a whir and a click the dial read 28.08.2093. It was 130 years since his speech. As we stepped out, the White House stood tall and proud in front of us. The President of the United States was giving a speech. We froze in amazement as she introduced herself, "My name is Violet Luther King. I address you today, just as my great, great, great grandfather did 130 years ago on this very day."
Martin fell to the ground weeping – his future granddaughter was the President. Suddenly, a very official looking car stopped in front of us. Violet climbed out of the car and said, "I don't know why but somehow I know I must talk to you." "I am Martin Luther King," he replied, "this wonderful young woman has brought me to see the future."
Inside the White House we sat down and explained everything. Violet told us about how much life had changed for black people. I cried, listening how in the 2010's black people were still treated badly; and how the Black Lives Matter movement came to be. People from all races, colours and religions coming together to fight for equality. After a long slow battle for equality, things finally changed in 2063 – a century after Martin's speech. I will never forget the pride in Martin's eyes as we sat listening to Violet. His dream had come true. Martin Luther King made his speech in 1963. It has been fifty-seven years but atrocities against black people still happen. I don't want to wait till 2063 or 2093 for freedom, for acceptance. I want 2020 to be the year when the whole world agrees that Black Lives Matter.