It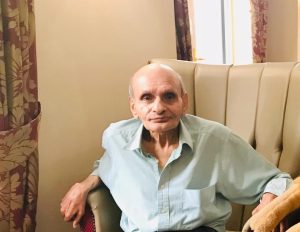 20th September 1937 – 4th May 2020
It is with heavy hearts and deep sadness that we announce the peaceful passing of our beloved
Late Chimanlal Mohanlal Visaria
He was the devoted husband of Late Jayaben Shah
He was the beloved Father to
Samir Shah and Jyoti Malde
He was a caring Father in law to
Nitin Malde
He was the loving Nana to
Nishma and Hamel
He was a proud Brother to
Late Dr. Kishore Shah and Jayu Visaria
He was a caring Brother in law to
Anu Shah and Kumud Visaria
He was a fun and kind Motabapa to
Raju and Nipa and Saachi
Ashish and Raakhi
Rajvi and Sam and Mia and Kian
Hethi and Sameer and Sophia and Aryan
Bindi and Bineet and Jessica and Lianna
Neil and Raakhi
His fun loving spirit for life and welcoming talkative nature will be missed by us all. He taught us to be humble and to live life to the fullest with no expectations. We will miss his smile, his jokes and his love and we take comfort in the good feelings of our memories. He may have left us but we pray that his soul finds eternal happiness and peace.
We will miss you and always remember you in our hearts.
"Sorrow comes in great waves…but it rolls over us, and though it may almost smother us, it passes and we remain." – Henry James
We will be most humble if you could all recite three Navkar Mantras in your own time and remember him in your prayers for his soul to rest in peace.
Om Shanti! Om Shanti! Om Shanti!