Late Ramniklal Premchand Lakhamshi Dodhia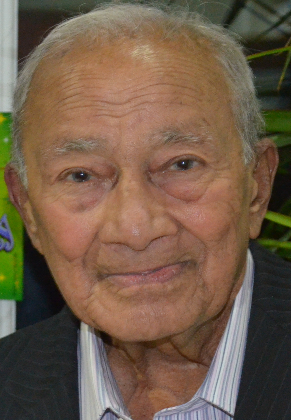 Born 5th Sep 1928                                                                                                                                 Eternal Abode 22/06/2019
It is with deep regret that we announce the death of Mr Ramniklal Premchand Shah (Dodhia) on Saturday 22nd June 2019  in Epsom, Surrey, UK.(Gaam – Lothia/Changa)
He was the husband to Sushilaben
He was the son of Late Umaben and Late Premchand (Ghelubhai) Lakhamshi Shah
He was the son-in-law of Late Valiben and Late Premchand Mepa Shah (Gaam- Sikka)
He was the father of Satish, Raksha, Sunil (all UK) and Rushika (Austin/Texas).
He was the father in law of Priti Satish (Daughter of Late Chandulal Devji Karamshi and Late Kanchanben – Nishit & Co), Pravin Jivraj Bhoja (son of Late Jivrajbhai and Late Savitaben), Mina Sunil (Daughter of Late Juthalal Chhagnlal Dodhia and Raliatben Dodhia), and Maulik Pandya (son of Rasikbhai and Late Manjulaben Pandya, Austin/Phoenix/New Jersey).
He was the brother of Late Mohanlal, Shantilal, Prabhulal (Dr P.P) – All Nairobi, Manjulaben and Tarulataben – Both Mombasa.
He was brother-in-law of Late Sushilaben Mohanlal, Late Manjulaben Shantilal, Kanchanben Prabhulal, Late Dayalal Dharamshi (Kibao Fashions, Mombasa) and Narendra Premchand (Malaika – Mombasa), Late Motiben Kalidas , Late Ratilal Premchand, Kantilal Premchand, Late Ramesh Premchand, Anilaben Mohanlal, Pramilaben (Dhuni) wife to Late Mohanlal and Sarojben wife to Late Rajnikant Dhanani
He was the grandfather of Minal, Aarti Chris, Jyoti Pritesh,(all Raksha and Pravins daughters), Pooja Jateesh, Sonak, Saajan, Megha and Nidhi (both Rushika and Maulik's daughters).
He was the great grandfather of Maya, Anokhi, Krish and Rohan.
He was the nephew of Late Devraj Lakhamshi (Jamnagar) and Rajpal Lakhamshi (Nairobi).
He was cousin brother to Late Chandulal (husband to Champaben), Late Amratlal (husband to Rakshaben), Late Shantilal, Late Ratanben Lalji, Pushpaben Dhirajlal (Surat) and Late Kantaben Jayantilal,(all born Jamnagar), Dr Rajnikant(UK) (husband to Kailashben), Late Amratlal (husband to Suryaben), Late Gulab (husband to Sarojben), Jagdish (husband to Renukaben (alias Ranjan) (all of Kenya Clothing – Nairobi), Late Kanchanben Devchand (Thika), Kantaben wife of Late Chimanlal (Agri Hardware), Sunandaben Anil (Sunu) and Kalikaben Kiran.
                                            Prayer meeting will be held on Sunday 23nd June 2019 from 4pm to 6pm
Lohana Community Hall – South London, Church Road, Croydon CR0 1SH
May Ramnikbhai's soul rest in peace.- AUM SHANTI
Our thanks go to Dr Sharpe, and all Staff and Management of Beaumont Care Home and Epsom General Hospital who served him selflessly.
FUNERAL ANNOUNCEMENT:
The Funeral will take place on Thursday 27 June 2019 at 10.30am
VENUE:
Croydon Crematorium, Thornton Road, Thornton Heath, Surrey CR7 6BB 
Condolence messages can be sent to sushilabenramniklal@gmail.com