| | | |
| --- | --- | --- |
| | | |
Late Shantaben Jayentilal Kachra Shah (Gosrani)
2/11/1935 – 26/12/2020
We are greatly saddened to announce the passing of our beautiful Ba, Shantaben Jayentilal Kachra.
Ba will be truly missed.
Her strength, courage and unconditional love is an inspirational to us all.
Her independence & knowledge made our Ba a wonderful unique mother, grandmother & friend to have.
 Our Ba was born in India – moved to Kenya Kisumu then Ba married our bapuji (Late Jayentilal Kachra) in 1953
then moved to Limburo
In 1972 they moved to UK and lived in Luton
 Dearest wife to Late Jayentilal Kachra
Daughter of Late Raniben Bhimji & Late Bhimji Karamshi
Daughter in law of Late Santokben Kachra & Late Kachra Lakhamsi Shah (Gosrani)
She was a beloved mother and mother-in-law to
Late Ashvin & Taruna (Taju)
Dilesh & Shelpee
Late Kalika Shah
Late Kiten & Rajni
Late Atul
She was proud grandmother to
Urshna & Mano Aiyer
Shilna & Chatan Vekariya
Keilna
Ricky & Luke Berry-Shah
Keiran, Aaron, Jayenti (Jay) & Pranay
Late Yazmin, Reece & Deon
 Great grandmother to Kailen, Vinay & Eva
 Sister in-Law to
Late Amratben & Late Mulchand Visara
Late Kankuben & Late Velji Fulchand Malde
 Sister to
Late Maganbhai & Kanataben Nagda
Late Jayentibhai & Late Jayaben Nagda
Prabulalbhai & Late Sudhaben Nagda
Vilasben & Late Somchandbhai Gudka
Rasikbhai & Suriyaben Nagda
Hansa (Bena) & Bipin Gosrani
Ba dearly loved all her nieces and nephews & members of her extended families.
Due to the current Covid -19 pandemic, there will not be a public held Sadadi and the funeral service will be restricted to close family.
In Loving memory of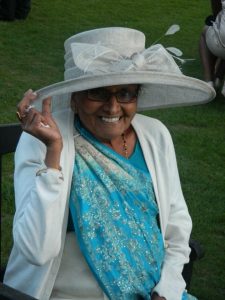 Late Shantaben Jayantilal Kachra
Funeral Announcement
We say our final farewell to Our Ba on the 9/1/21 at 11.00am
Please see live webcast details below
http://www.obitus.com
username|Qohi9609
password|899582
Bhajans
We would like to invite you to bhajans in memory of our beloved mother and grandmother.
Please switch on your video and join us in singing along from your homes. If you would like
to send us a message of condolence, please use the chat function in Zoom.
Saturday 9th January 2021 | 3pm UK time
Zoom ID: 861 2602 2358 | Password: 1935
Please click on the below link to join
http://us02web.zoom.us/j/86126022358? pwd=VDJFOFBlQ09rak8zQVZLbC9hdUNTdz09
Messages of Condolences to
OM SHANTI SHANTI SHANTI OM