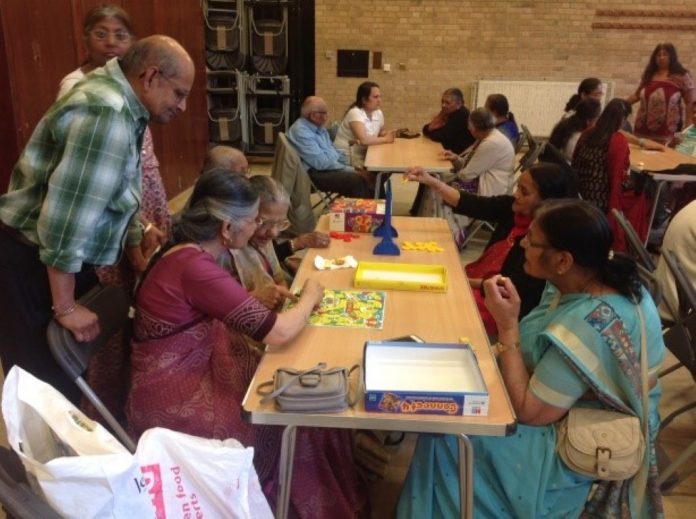 Fun & Games Afternoon – 20th May 2018 An afternoon of table games was organised by the Leicester Area Committee held on 20th May 2018. It was lovely to see approximately 60 members attending the event given the fact that the program was organised and advertised at short notice.
It was a sunny Sunday afternoon, perfect for an outdoor activity, but that didn't stop members attending the event. Whilst most played one game or another some mingled around enjoying the company.
There were tables with various card games being played. And of course, no card game misses out on the shouts of condemnation of partners putting down the wrong card! It was all in good spirit. Whilst some got on with the popular Whist Drive, Bukhar and Rummy (Paplu), others refreshed their memories not having played such for years.
Other tables had been set up for board games. It was heart warming to see some of the elder members playing Connect 4 and Snakes & Ladders with excitement at winning the round. Some played 'Payday' while others tested their recollection skills by memorising and then noting down names of fruits & vegetables. Best bit was the encouragement all got to join in the fun!
During the afternoon, sweet apples, provided by Jayantibhai and Sunitaben, were dished out as a snack during the games. At the end of the event all sat down to enjoy a delicious meal of theplas, ganthiya, chutney, pickles, yogurt, tea, biscuits and soft drinks. The tasty lal-chutney made by Jayaben Keshavlal Punjani was greatly enjoyed and appreciated by all.
---
Back to Leicester Area.