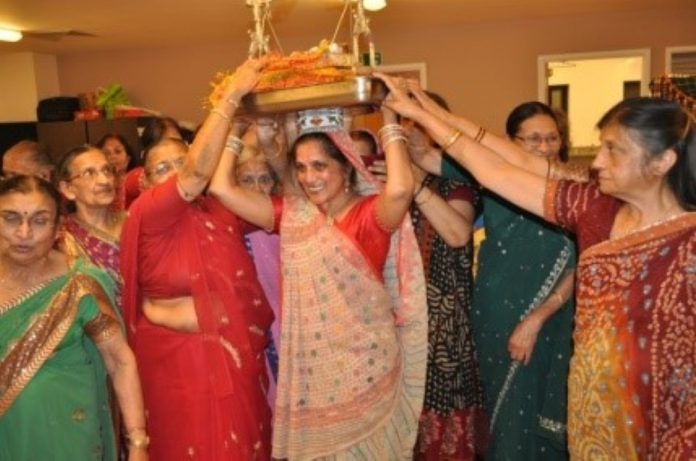 Paryushan 6th – 13th September 2018
Leicester area members celebrated Paryushan by joining in the Stavans, Aarti and Mangal Divo. Paryushan is a time to grow one's spiritual being by doing various religious activities.
The committee members and volunteers came together and helped decorate the hall for the festival of Paryushan on Wednesday 5th September 2018.
On the first day of Paryushan approximately 25 people attended Pratikraman.
During the program, Jay (son of Lataben and Hasmukhbhai Lalji Shah) gave a speech regarding how he found the Pratikraman relaxing and good for the soul. He gave a talk on veganism and advised to become vegan at least during Paryushan. As Jains we believe in non-violence for all living being. He greatly believes in the welfare of the animals that produce dairy products. Lataben translated the talk in Gujarati for the elder members.
On the fourth day of Paryushan, Jayeshbhai conducted the Pratikraman after which we were all joined by OAUK President Nileshbhai and his fellow committee members.
During the evening Jayeshbhai gave a talk on Paryushan and delivered more knowledge and insight on the benefits of festival. He also helped with the Ucchavni for the 14 Swapna, Parnu Jhulawanu, Parnu ghare layi javanu and Ponkhvanu. Jayeshbhai suggested a group bid for the Prabhuji nu parnu ghare layi janvanu, which was greatly recieved by the community members.
Jyotikaben read the article written by her father, Premchandbhai Meghji Shah of Hounslow regarding clarification of Paryushan, what is the true meaning of Pratikraman and the path leading to Moksha.
Mahavir Jayanti was well attended and joyously celebrated on the fifth day of Paryushan. This year 20 members collectively participated for Prabhuji Nu Parnu to be taken home for which they contributed £24 each. The Parnu was then left in the hall overnight.
Vilas Gauri and family honoured the Tapasvi on behalf of the community. Three Tapasvi were present that day however in the end there was a total of five Tapasvi.
Shreena Rajesh Dedhia – 10 Upvas
Sushma Nitin Shah – Athai
Jyotika Raminklal Gudka – Atham
Dylan Shah – Atham
Hemal Nikunj Shah – Atham
The Leicester Community is very fortunate to have this many Tapasvi.
On the last day of Paryushan, Savantsari Pratikraman was attended by approx 30 people, however, for the Bhavna and Kshampna approx 160 people attended which is a great turnout for us, especially being a school night.
Every evening, after Pratikraman our very talented singers sang some very uplifting melodious stavans and played garbas.
Aarti and Mangal Divo were carried out each night by different members of the community and on the last day we finished with 108 Diva ni Aarti and Mangal Divo.
Generous financial contributions were received towards Aarti, Mangal Divo, Hall Hire and general donations.
On behalf of the Leicester Committee, we would like to thank all the volunteers and those who attended and participated in Paryushan this year.
Jai Jinendra and Micchami Dukkadam,
Lata Hasmukh Shah (Religion)
Jyotika Ramniklal Gudka & Nita Nitin Shah (Media & Comm.)
To see pictures, click here.
---
Back to Leicester Area page.