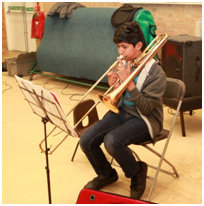 Leicester Oshwal's Got Talent event was held on 27th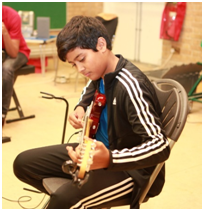 November 2016 at Coleman Neighbourhood Centre. Over 50 members attended the event to show their support and encouragement for the participants of all ages who took part.
Jay, Dillon and Meer hosted the afternoon's show taking over from the committee members. Vaghjibhai started off with narrating a story in Gujarati.
Jay played a couple of pieces on the guitar including the theme song to James Bond to the delight of the audience! Dillan invited the audience to guess the tune he played on the trombone – he played so well that all the tunes were guessed correctly! Vijay had written a poem on his experience of Palitana. Meer followed on the digital piano with classics from different genres.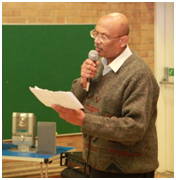 'Tum agar saath dene ka' and 'Jahu Kaha Bataye Dil' …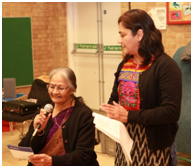 Pravinbhai's personal favourite songs … sung with so much emotion! Nutan got the whole crowd involved clapping to her song – I'm Alive (Celine Dion)! Hemal and Kamlaben performed a duet of the golden oldies bringing back joyful memories for so many!
The food and prizes were donated by individuals from the Leicester community. A special thank you to all the participants who took part and made this event a success.